Marcus Samuelsson's Helga's Meatballs
A Winning Bite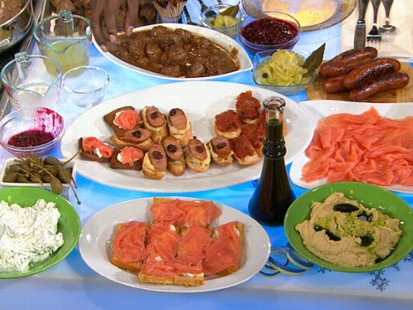 The top master chef shares some simple recipes for your big party.
From the kitchen of Marcus Samuelsson
Contestants on ABC's "The Taste" have one bite to win over big-name judges like Anthony Bourdain and Nigella Lawson. New judge Marcus Samuelsson shared what his ultimate bite would be on "Good Morning America." Check out his choice of Helga's Meatballs here.
Ingredients
For the meatballs:
1/2 cup dry breadcrumbs
1/4 cup heavy cream
2 tablespoons olive oil
1 medium red onion, finely chopped
1/2 pound ground chuck or sirloin
1/2 pound ground veal
1/2 pound ground pork
2 tablespoons honey
1 large egg
Kosher salt and freshly ground black pepper
3 tablespoons unsalted butter
For the sauce:
1 cup chicken stock
1/2 cup heavy cream
1/4 cup lingonberry preserves (see below)
2 tablespoons pickle juice (see below)
Kosher salt and freshly ground black pepper
For the pickled cucumbers:
1 English (hothouse) cucumber
1 tablespoon kosher salt
11/2 cups water
1/2 cup white wine vinegar
1 cup sugar
1 bay leaf
2 allspice berries
For the ligonberry preserves:
1 cup lingonberries
2 cups sugar
1 quart water
Cooking Directions
Prepare the meatballs: Combine the breadcrumbs and heavy cream in a small bowl, stir in with a fork until all the crumbs are moistened. Set aside.
Heat the oil in a small skillet over medium heat. Add the onion and sauté for about 5 minutes, until softened. Remove from the heat.
In a large bowl, combine the ground beef, veal, pork, onion, honey, and egg, and mix well with your hands. Season with salt and pepper to taste. Add the bread crumb-cream mixture and mix well. With wet hands (to keep the mixture from sticking) shape the mixture into meatballs the size of a golf ball, placing them on a plate lightly moistened with water. You should have about 24 meatballs.
Melt the butter in a large skillet over medium high heat. Add the meatballs, in batches if necessary, and cook, turning frequently, for about 7 minutes, until browned on all sides and cook through. Transfer the meatballs to a plate, and discard all but 1 tablespoon of fat from the skillet.
Prepare the sauce: Return the skillet to the heat, whisk in the stock, cream, preserves, and pickle juice, and bring to a simmer. Season to taste with salt and pepper. Add the meatballs to the sauce, reduce the heat to medium, and simmer for about 5 minutes, until the sauce thickens slightly and the meatballs are heated through. Top with Quick Picked Cucumbers.
For the pickled cucumbers:
Slice the cucumber as thin as possible (use a mandoline or other vegetable slicer if have one). Put the slices in a colander, toss them with the salt, and let stand for about 30 minutes.
Meanwhile, combine the water, vinegar, sugar, bay leaf, and allspice in a medium saucepan and bring to a boil. Remove from the heat and let cool.
Rinse the salt off the cucumbers, and squeeze out as much moisture as possible. Put the cucumbers in a medium bowl and add the pickling solution: they should be completely covered by the brine. Cover and refrigerate for 3 to 6 hours before serving.
For the ligonberry preserves:
Put in a pot. Bring to a boil. Reduce heat to a low flame. Simmer until syrup consistency. Cool and serve.
This recipe was styled by chef Karen Pickus for Good Morning America.
Recipe courtesy Marcus Samuelsson.
Recipe Summary
Main Ingredients: pepper, butter, breadcrumbs, cream, egg, pepper, cucumbers, sugar, ground sirloin
Course: Party Platter, Appetizer/Starter