Marcus Samuelsson's Jerk Chickity Split Sandwich
Marcus Samuelsson's Jerk Chickity Split Sandwich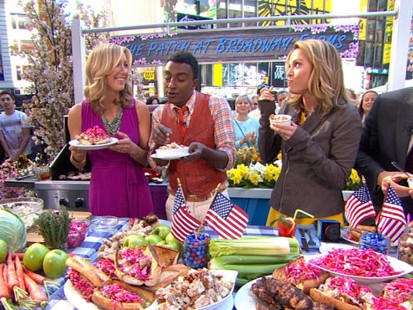 Marcus Samuelsson serves up a refreshing feast to kick off the summer months.
From the kitchen of Marcus Samuelsson
|
Fire up your Memorial Day with a grilled sandwich from chef Marcus Samuelsson, owner of Harlem's famed Red Rooster restaurant.
Ingredients
Sandwiches
2 grilled chicken breast
½ cup Jerk Sauce
¼ cup diced celery
1 green apple diced
2 tablespoons pecans, chopped
1 tablespoon mayo
Juice from one lime
Picklz
2 cups shredded white cabbage (about ¼ of a medium head)
2 cup shredded red cabbage (about ? of a medium head)
2 medium carrots, peeled and shredded
1 1-inch ginger knob, finely grated
1 habanero pepper, seeded and julienned
1 Scotch bonnet, seeded and julienned
2 cups white distilled vinegar
1/2 cup granulated sugar
2 tablespoons kosher salt
Jerk Sauce
1/2 cup ground all-spice
8 garlic cloves, chopped
1/2 cup brown sugar
8 Scotch bonnets, chopped
4 tablespoons thyme
2 scallion bunches, chopped
1 teaspoon cinnamon
1/2 teaspoon nutmeg
1/2 cup soy sauce
3-ounces extra virgin olive oil
1 tablespoon lemon juice
6-ounces molasses
3-ounces rum
Salt, to taste
Freshly ground black pepper, to taste
Cooking Directions
To prepare sandwiches:
Rub the sauce on the chicken breasts and grill for five minutes on each side. Allow to rest for two minutes then chop.
Mix the nuts, apple, and celery together in a bowl. Add the lime juice and mayo. Fold in the chicken
Serve on either traditional roti bread or baguette, grilled for twenty seconds.
Rip some of the flesh out from the bread and stuff with the salad and one tablespoon of the picklz.
To prepare Picklz:
1. Shred both the white and red cabbage. Set them aside. Peel and shred the carrots and set them aside. Grate the ginger. Seed and julienne the habanera and Scotch bonnet peppers. Set aside.
2.Toss all the ingredients together in a large jar with an airtight seal. Refrigerate for one week before serving.
To prepare Jerk Sauce:
1. Blend everything except for salt and pepper until smooth. Stir in remaining ingredients, to taste.
This recipe was styled by chef Karen Pickus for Good Morning America.
Other Recipes That You Might Like