Buddy Valastro's Margarita Cupcakes
Just Like The Drink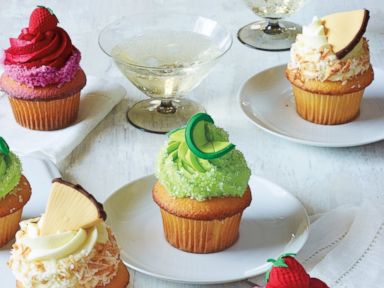 From the kitchen of Buddy Valastro
It's no secret that Cake Boss Buddy Valastro is a sweets expert, and his recipe for margarita cupcakes from his new book, "Family Celebrations with the Cake Boss," proves this. Check it out his recipe for the sweet treat below.
Ingredients
Vanilla cupcakes
Decorator's Buttercream (recipe below)
1 pound green fondant
1 pound lime-green fondant (6 ounces each of green and yellow fondant kneaded together)
Powdered sugar or corn starch, for dusting a work surface
Water pen
X-ACTO knife or other thin-bladed knife such as a paring knife
1 1/2 inch and 2 inch punches
Cooking Directions
Make vanilla cupcakes using this recipe.
Pipe buttercream (recipe below) over each cupcake in a swirl pattern.
Put 2 cups rock sugar in a bowl and roll the frosted edge of the cupcake gently in the sugar.
Make fondant lime toppings: Dust your work surface with powdered sugar and roll out a small piece of green fondant to 1/8-inch thick. Punch out a 2-inch ring, then punch out the center with a 1 1/2-inch ring to create the peel.
Roll out a small piece of lime green fondant and punch out a 1 1/2-inch circle. Apply water to the edge of the lime green circle with a water pen or pastry brush and put the lime green circle into the dark green ring. Press the X-ACTO knife lightly into the lime-green center to make 8 sections.
Repeat to make 24 cupcakes, reusing the punched out portion of each ring in the next batch you roll.
Use the X-ACTO knife to make an incision that runs halfway up the limes, allowing you to twist them. Let them dry before setting them atop the cupcakes. Serve.
Decorator's Buttercream
7 1/2 cups confectioners' sugar
2 1/4 cups vegetable shortening
3/4 stick unsalted butter
1 1/2 tablespoons pure vanilla extract
1/4 cup plus 2 tablespoons tequila of your choice
Green food coloring gel
Put the sugar, shortening, butter, and vanilla in the bowl of a stand mixer fitted with the paddle attachment and paddle at low- medium speed until the mixture is smooth, with no lumps, about 3 minutes.
With the motor running, add the tequila in a thin stream and continue to paddle until absorbed, about 3 minutes. Add green food coloring gel until color of your choice. The buttercream can be refrigerated in an airtight container for up to 2 weeks.
Visit BuddyOnTour.com to learn more about how you can see him make this dish in person!
This recipe was styled by chef Karen Pickus for Good Morning America.
Recipe reprinted with permission of Buddy Valastro.
Recipe Summary
Main Ingredients: buttercream, vanilla cake, fondant, rock sugar
Course: Dessert