Marilyn's Mini Cutlets
Delicious Pork Bites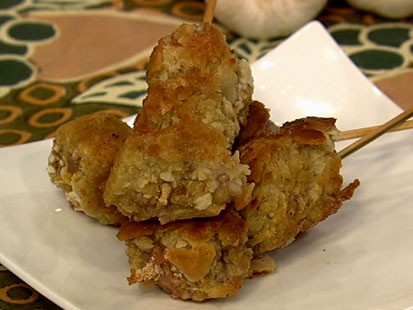 From the kitchen of The Chew
Ingredients
1/2 pound Pork Shoulder
1/2 pound Veal Shoulder
3 Eggs (lightly beaten)
1 sleeve Saltine Crackers
3 tablespoons Extra Virgin Olive Oil
Salt and Pepper
3 tablespoons Butter
flour (for dredging)
2 tablespoons Vermouth (optional)
lemon wedges (for garnish)
skewers
Cooking Directions
Soak skewers in water for 30 minutes.
Cut the veal and pork shoulder into chicken finger sized pieces (about 1-inch cubes).
Crush the saltine crackers and place into shallow dish. Put the lightly beaten eggs into another shallow dish. Have a third dish with flour for dredging.
Insert skewers into the pieces of pork and veal as to resemble a chicken drumstick.
Season each pieces on both sides with salt and pepper.
Preheat oven to 400F.
Heat the olive oil and butter in a skillet over medium-high heat. Once smoking, dip each piece of veal or pork into the flour, the egg, then dredge in the saltine crumbs. Pan fry each piece lightly on both sides then, if desired, deglaze the pan with the vermouth. Once all pieces have been fried, transfer the pan into oven to finish cooking, about 8-10 minutes. Allow to cool before serving. Garnish with a squeeze of lemon from wedges.
Recipe courtesy The Chew.
Recipe Summary
Main Ingredients: butter, flour, veal shoulder, eggs, vermouth, lemon
Course: Appetizer/Starter