Mario Batali's Linguine With Walnut Sauce
A Hearty Vegetarian Pasta Dish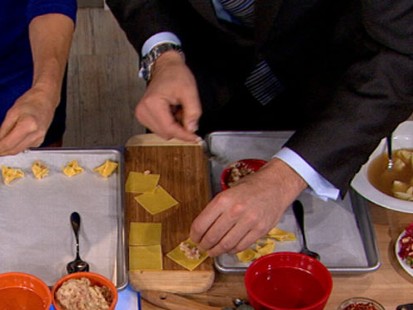 Co-host of "The Chew" prepares his favorite holiday classic Tortellini in Brodo.
From the kitchen of Mario Batali
|
Walnuts and breadcrumbs take the place of meat in this hearty sauce. The walnuts and breadcrumbs are toasted with the red pepper flakes for an extra bit of heat. For more great recipes visit The Chew's site.
Ingredients
1/4 cup extra virgin olive oil
3 cloves of garlic (thinly sliced)
1/2 cup toasted hard bread crumbs
1 cup roughly chopped walnuts
1 tablespoon red hot pepper flakes
1 pound linguine
1/2 cup roughly chopped Italian parsley
1/2 cup freshly grated caciocavallo
Cooking Directions
Bring six quarts of water to a boil and add salt.
In a 14 to 16 inch fry pan, heat the oil over medium heat until smoking. Add the garlic and cook until golden brown, 2 to 3 minutes. Add half the bread crumbs, walnuts and red pepper flakes and cook until slightly toasted, about 3 to 4 minutes. Remove from heat and set aside.
Drop the pasta into boiling water and cook according to package instruction until 1 minute short of al dente. Just before draining the pasta add 1/4 cup of pasta water to the pan with the walnut mixture.
Drain the pasta in a colander and pour the pasta into the pan with the walnut mixture. Place the pan over medium heat and continue to cook the pasta with the walnut mixture until the pasta is lightly dressed with the condiment, about 1 minute. Add the parsley and grated cheese, stir through, pour into a heated bowl, sprinkle with the remaining breadcrmbs and serve.
Recipe courtesy of The Chew.
Other Recipes That You Might Like