Mario Batali's Beef Tacos
The tacos you dream about!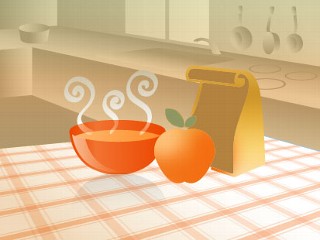 From the kitchen of Mario Batali
These tacos are the tacos you dream about having in Mexico. Take a bite, close your eyes and enjoy the ride.
Ingredients
2 tablespoons extra virgin olive oil
½ red onion, peeled, cut in half, and sliced into thin half-moons
2 ¼ pounds ground chuck
2 teaspoons salt
1 ½ tablespoons ground cumin
1 tube tomato paste (about 4 ½ ounces)
4 garlic cloves, peeled: 3 chopped, 1 left whole
14-16 corn tortillas
2 limes
1 bunch (about ½ cup) fresh cilantro, leaves picked
Cooking Directions
1. Take a large frying pan, put it over medium-high heat, and let it heat up. Then take the olive oil and drizzle it onto the pan. Add the red onion and let that cook till the onions turn just a tiny bit brown, about 3 to 4 minutes.
2. Add the meat in thirds: add one third, wait 5 seconds, add the second, wait 5 seconds, and so on. Season with the salt. Then take a wooden stirrer with a sharp edge and chop the meat so it's separated into little parts. Keep doing that and turning the meat so it gets browned and cooked through, about 6 to 8 minutes. Drain some of the grease with a spoon and discard it. But keep some-it adds flavor!
3. When the meat is almost ready, spread the cumin and tomato paste over the meat and stir to mix well. The Tomato paste may look disgusting but it makes your tacos less dry, and keeps them wet and delicious.
4. Add the chopped garlic, pus the whole clove (just remember to remove it before serving). That clove will always keep adding flavor to the meat. Cook for 1 to 2 minutes. Remove the pan from the heat.
5. To cook the tortillas, put the burned on medium low and throw a tortilla right onto the burner. Flip the tortilla with tongs when it is ready/ Wrap the cooked tortillas in a towel.
6. To serve, put the meat in a bowl and the tortillas on a plate or in a tortilla holder. Then cut the limes into wedges and put the cilantro leaves in a cup.
7. To make a taco, take the tortilla and put it in the meat with some cilantro on top, then squeeze the lime on the meat and enjoy!
This recipe was styled by chef Karen Pickus for "Good Morning America."
Recipe courtesy "The Batali Brothers Cookbook (ecco 2013)."
Recipe Summary
Main Ingredients: ground chuck, corn tortillas
Course: Lunch