Mario Batali's Bitter Chocolate Tart
A Scrumptiously Rich Dessert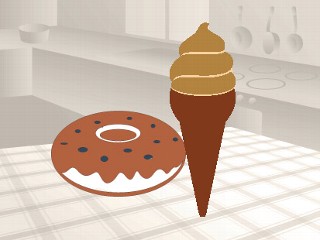 From the kitchen of Mario Batali
Mario Batali whips up a decadent chocolate dessert that you can easily recreate at home!
Ingredients
Pastry
1 1/2cups all-purpose flour
1/2 teaspoon salt
1/4 cup confectioners' sugar
1/2 teaspoon ground cinnamon
9 tablespoons unsalted butter, cut into 1/2-inch pieces and chilled
1/4 cup sweet dessert wine, such as vin santo
Filling
1 1/2 cups heavy cream
10 1/2 ounces extra-bittersweet chocolate, finely chopped
2 large eggs
1 large egg yolk
2 tablespoons unsweetened cocoa powder
1 teaspoon anise seeds, crushed
1 tablespoon anisette
Glaze
1 cup confectioners' sugar
1 1/2 tablespoons milk, or as needed
2 teaspoons anisette
Cooking Directions
Pastry
To make the pastry, combine the flour, salt, confectioners' sugar, and cinnamon in a food processor and pulse 2 or 3 times to mix.
Add the butter and pulse until the mixture resembles coarse crumbs. With the machine running, pour in the wine and process until the dough comes together.
Place the dough on a sheet of plastic wrap, gently press it into a disk, and wrap tightly. Refrigerate for 30 minutes.
Butter a 10-inch fluted tart pan. Roll the dough out between sheets of plastic to a 12-inch circle about 1/4 inch thick.
Preheat the oven to 400°F. Line the tart pan with the dough and trim the excess. Refrigerate until chilled.
Prick the shell and bake the tart shell for 12 minutes, or just until set. Set aside to cool. Reduce the oven temperature to 375ºF.
Filling
To make the filling, in a medium saucepan, bring the cream to a simmer over medium heat. Remove from the heat, add the chocolate, and stir to melt. Transfer to a medium bowl and let cool from 20 minutes.
In a small bowl, lightly beat the eggs and egg yolk together. Whisk the cocoa and eggs into the chocolate mixture, then whisk in the crushed anise seeds and anisette.
Pour the filling into the tart shell and bake for 15 minutes or just until the filling forms a shiny skin and is slightly firm but still loose at the center.
Cool the tart for 15 minutes on a rack, then remove the sides of the pan and cool completely.
Glaze
In a medium bowl, beat the confectioners' sugar with the milk and anisette to a thin, pourable consistency; add a few more drops of milk if needed.
Drizzle over the cooled tart with the glaze. Allow the glaze to harden before serving with anisette.
All recipes courtesy of Molto Italiano, by Mario Batali, copyright 2005.
Recipe Summary
Main Ingredients: flour, butter, cocoa powder, heavy cream, dessert wine, egg
Course: Dessert