Mario Batali's Chestnut-Apple Ciambella
A Heavenly Cake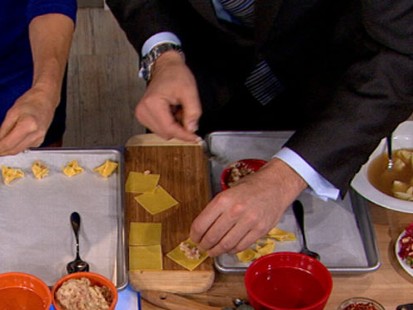 Co-host of "The Chew" prepares his favorite holiday classic Tortellini in Brodo.
From the kitchen of Mario Batali
|
This moist and delicious Bundt cake has an almost pudding-meets-a-cloud-in-heaven texture, thanks to the chestnut flour and the shredded raw apple.
Ingredients
½ cup dried currants
½ cup grappa
1 up packed light brown sugar
½ cup granulated sugar
1 ½ cups cake flour
½ cup chestnut flour
½ teaspoon ground cloves
1 teaspoon baking soda
1 teaspoon baking powder
1 teaspoon salt
6 eggs, separated, at room temperature
½ cup extra virgin olive oil
½ cup buttermilk
½ cup chopped fresh chestnuts
2 Rome apples (or any soft, tart cooking apple), peeled, seeded, and shredded (1 ½ cups)
2 cups confectioners' sugar
4 teaspoons light corn syrup, or more if needed
1 cup mascarpone, at room temperature
Cooking Directions
Place the currants in a small bowl, add the grapes, and set aside to soak for 1 hour.
Preheat the oven to 350 degrees F. Lightly butter and flour a Bundt pan.
In a large bowl, combine the brown sugar, granulated sugar, cake flour, chestnut flour, cloves, baking soda, baking powder, and salt. Mix until well blended. Add the egg yolks, the oil, and the buttermilk, and, using an electric mixer, beat until smooth.
Drain the currants, reserving the soaking grappa. Fold the currants, chestnuts, and apples into the batter.
In a separate bowl, beat the egg whites until stiff. Fold the egg whites into the batter, and then pour the batter into the Bundt pan. Place the pan in the oven and bake for 1 hour, or until a toothpick inserted into the cake comes out clean.
Remove the pan from the oven and set it aside to cool for 10 minutes. Then invert the cake onto a plate.
In a small bowl, stir together the confectioners' sugar, 4 teaspoons of the reserved soaking grappa, and the corn syrup until smooth and glossy. (If it is too thick to spread, add another teaspoon of corn syrup). Pour the icing over the peak of the cake all around the ring, and allow it to set for 10 minutes.
Drink a shot of the remaining grappa in the kitchen before serving the cake with a bowl of the mascarpone on the side.
Serves 8 to 10
This recipe was styled by chef Karen Pickus for Good Morning America.
Recipe courtesy Mario Batali.
Other Recipes That You Might Like