Mario Batali's Chicken Paillard
The Perfect Marinade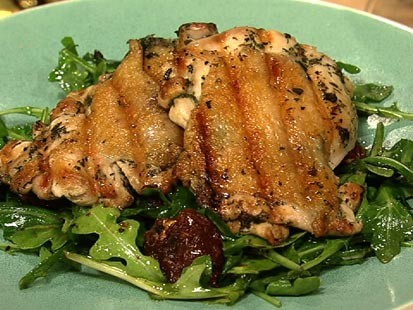 From the kitchen of Mario Batali
Ingredients
4 Boneless, skin-on Chicken Thighs, pounded out, marinated (recipe follows)
Salt and Pepper
1 Cup Extra Virgin Olive Oil, separated
1/2 Lb Arugula
1/2 Cup Orange Juice
1/2 Tbsp Dijon Mustard
1/2 Tbsp Black Olive Paste
1/4 Cup Sun-dried Tomatoes, packed in oil
1 Tbsp Olive oil
For the marinade:
1/2 bunch Parsley
1/2 bunch Thyme
1/2 bunch Rosemary
1/2 Cup Apple Cider
1 Cup Extra Virgin Olive Oil
Cooking Directions
In a baking dish combine all of the marinade ingredients. Add the chicken and season with salt. Chicken can marinade for up to 8 hours (overnight).
Preheat grill pan to medium-high.
Drizzle the grill pan with extra virgin olive oil and place the chicken skin side down. Place a brick on top. Once skin is crisp, after about 4 minutes, flip over to finish, about 4-5 minutes. Season the chicken with a pinch more salt.
While that cooks, reduce the orange juice in saucepan over high heat until reduced by 2/3rds, about 3-4 minutes. Transfer the juice to a bowl and whisk in the mustard and black olive paste until well combined. Whisk in the oil until emulsified. Adjust the seasoning with salt and pepper.
Toss the arugula with 1Tbl olive oil and a pinch of salt. To serve, split the arugula salad among four plates, add a whole sundried tomato, place a piece of chicken on top and drizzle with vinaigrette.
Recipe courtesy The Chew.
Recipe Summary
Main Ingredients: parsley, thyme, rosemary, arugala, apple cider
Course: Dinner
More Info: Kid Friendly