Mario Batali's Dry-Rubbed Skirt Steak with Peach Cucumber Salad
Dry Rub Gives Steak a Flavor Boost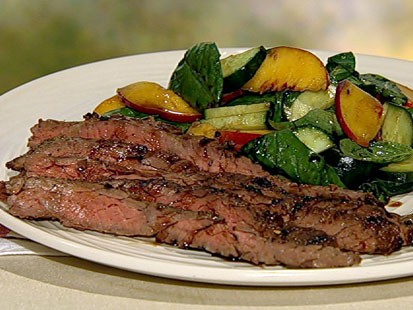 From the kitchen of Mario Batali
Ingredients
2 tablespoons sugar
1 tablespoon salt
5 garlic cloves, minced
1 tablespoon red pepper flakes
1 tablespoon cracked black pepper
1/4 cup dry porcini mushrooms, finely ground
1/4 cup extra virgin olive oil
1 1/2 pounds skirt steak
For the peach cucumber salad:
1 english cucumber
1/2 bunch fresh basil
3 tablespoons good quality balsamic vinegar
1 1/2 tablespoons extra virgin olive oil
salt & pepper to taste
3 ripe peaches
Cooking Directions
Combine the sugar, salt, garlic, red pepper flakes, pepper, mushroom powder & 1/4 cup olive oil. Stir to form a thick dry paste. Coat the steak evenly with the paste and wrap in plastic.
Refrigerate for 12 hours or overnight.
Preheat Grill. Remove Steak from the refrigerator and brush off excess marinade with a dry paper towel.
Cook steak over high heat for 3-4 minutes per side. The internal temperature should reach 120 degrees. Remove from grill.
While the steak rests prepare the peach and cucumber salad. Slice the cucumbers into thin rounds. Peel peaches, remove pits and then slice thin.
Add olive oil, balsamic vinegar and fresh basil leaves. Toss to combine. Salt and Pepper to taste.
Slice skirt steak against the grain and serve with peach cucumber salad.
Recipe courtesy The Chew.
Recipe Summary
Main Ingredients: cucumber, basil, vinegar
Course: Dinner