Mario Batali's Eggplant Rollatini with Cheese and Pesto
A Great Vegetarian Option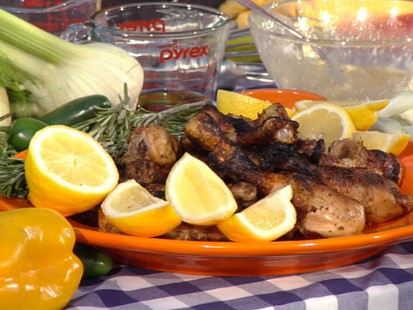 Host of "The Chew" whips up some spicy black pepper-coated drumsticks.
From the kitchen of Mario Batali
These little rolls also made an excellent sandwich filling for a late-night snack: Put a whole roll in a hamburger bun, squish it a bit, and party on! Be sure to use medium eggplant, so they won't be too seedy.
Ingredients
3 medium eggplant
¼ cup extra-virgin olive oil, plus about 1/3 cup for brushing
Kosher salt and freshly ground black pepper
1 cup soft fresh goat cheese, such as Coach Farm
½ cup Pesto (see recipe)
¼ teaspoon freshly grated nutmeg
1 cup Basic Tomato Sauce
Generous 2 tablespoons fresh marjoram leaves
Cooking Directions
Preheat a gas grill or prepare a fire in a charcoal grill.
Trim the eggplant and cut lengthwise into 1/3-inch-thick slices, discarding the first and last slices from each one; you should have about 18 slices.
Lay the slices on a baking sheet and brush on both sides with olive oil. Place over the hottest part of the grill, in batches if necessary, and cook, turning once, until soft and golden brown, 3 to 5 minutes on each side; return the slices to the baking sheet as they are done.
Season the eggplant slices on both sides with salt and pepper and arrange the slices on a work surface with a narrow end of each slice toward you. In a small bowl, mix the goat cheese, pesto, and nutmeg until smooth and well blended. Season to taste with salt and pepper. Place about 1 tablespoon of the mixture on the narrow end of each slice of eggplant and roll up, not too tightly, like a jelly roll. Set aside.
Put the tomato sauce in a medium bowl and whisk in the remaining ¼ cup olive oil. Season with salt. Spoon the sauce onto a rimmed platter or into a shallow serving bowl. Arrange the eggplant rolls seam side down in the sauce and sprinkle with the marjoram leaves.
You can serve the eggplant now, or refrigerate it for at least 1 hour, or overnight, to allow the flavors to marry. If you chill it, remove it from the refrigerator 30 minutes before serving to come to room temperature.
This recipe was styled by chef Karen Pickus for Good Morning America.
Recipe courtesy Mario Batali.
Recipe Summary
Main Ingredients: eggplant, olive oil, nutmeg, tomato sauce
Course: Vegetable
More Info: Kid Friendly, Vegetarian