Dad's Day Cooking: Mario Batali's Favorite Salsa Verde
Try Mario's Healthy and Delicious Marinade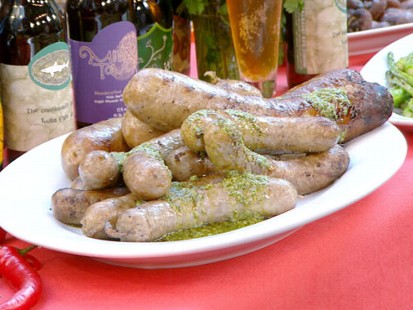 Famous chef shares his must-have recipes for your dad.
From the kitchen of Mario Batali
This is Mario Batali's go-to recipe for meat marinades. It's fesh, flavorful and a snap to make. So, whip up a batch tonight and you're family will surely thank you.
Ingredients
2 cups fresh Italian parsley leaves
½ cup fresh basil leaves
1 garlic clove
¼ cup fresh bread crumbs
¼ cup capers, drained
1 salt-packed anchovy, filleted, rinsed, and drained, or 2 oil-packed anchovy fillets, drained
3 tablespoons white wine vinegar
1 cup extra-virgin olive oil
Kosher salt
2 to 3 tablespoons extra-virgin olive oil
Cooking Directions
Put the parsley, basil, garlic, bread crumbs, capers, anchovies, and vinegar in a food processor and zap until the herbs are coarsely chopped. With the motor running, drizzle in the oil until a smooth sauce forms. Season with salt if it needs it, and set aside. (The sauce can be stored just like pesto, in a tightly sealed jar topped with a thin layer of extra-virgin olive oil, for several weeks in the refrigerator.)
This recipe was styled by chef Karen Pickus for "Good Morning America."
*Recipe courtesy of Mario Batali
Recipe Summary
Main Ingredients: parsley, basil, garlic, bread crumbs, capers
Course: Dinner, Main Course, Party Platter, Sauces and marinades