Mario Batali's Fried Chicken Flautas
The Perfect Appetizer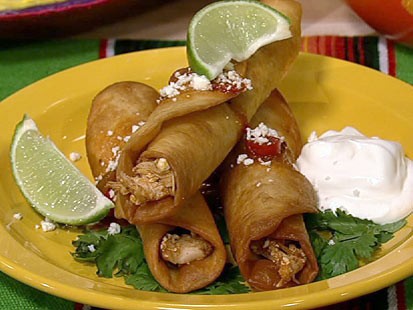 From the kitchen of Mario Batali
|
Ingredients
3 tablespoons Olive Oil (plus some for frying)
6 Boneless Chicken Thighs
1 tablespoon Cumin
1 tablespoon Coriander
1 tablespoon Cayenne
1 Onion (sliced)
6 Garlic Cloves (sliced)
3 Red Fresnos (chopped)
4 Ancho Chiles (soaked in hot water)
2 Chipotle in Adobo
Salt (to taste)
3 tablespoons Tomato Paste
1 Bunch Cilantro
2 Cups Cotija Cheese
12 6" Flour Tortillas
Sour Cream (for garnish)
Lime Wedges (for garnish)
Cooking Directions
Heat a large Dutch oven over medium heat and add the 3 tablespoons oil.
Season the chicken with salt, cumin, coriander, and cayenne. Add the chicken to the pot and cook until golden brown, 3 minutes per side. Remove the chicken from the pot and set aside on a plate.
Add the onion, garlic, and fresno chili and sauté for 3 more minutes. Add the tomato paste and cook for another minute.
Remove the ancho pepper from the water, puree with the chipotle and add to the pot, reserving the soaking liquid.
Place the chicken back into the pot and add some of the reserved cooking liquid. Cook the chicken until tender, about 45 minutes.
Remove the chicken from the sauce and shred when cool enough to handle. Add a little of the sauce to the chicken so that it is coated but not too wet and set aside the remaining sauce.
Place 2 tablespoons of the chicken into a warmed flour tortilla. Add a little cheese and cilantro. Roll the tortilla up and fasten with a toothpick. Repeat with the remaining tortillas.
Heat 2 inches of oil in a large cast iron skillet to about 350 degrees. Place the tortillas into the oil seam side down and working in batches fry until golden brown on each side, about 2 minutes per side. Remove to a towel lined plate to drain.
Serve with the remaining sauce, sour cream, cilantro, limes, and cheese.
Recipe courtesy The Chew.
Other Recipes That You Might Like