Mario Batali's Grilled Eggplant Parmesan
A classic Italian dish from Mario Batali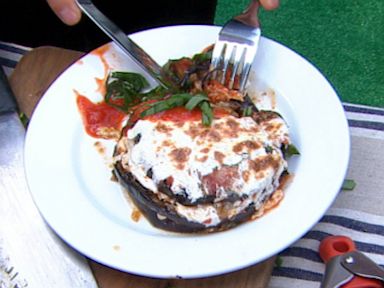 From the kitchen of Mario Batali
Try this great grilled eggplant parmesan, or melanzane alla parmigiana, dish from "The Chew" co-host Mario Batali.
Ingredients
¼ cup extra-virgin olive oil
2 large eggplant (about 1 pound each)
Salt and freshly ground black pepper
3 cups basic tomato sauce (recipe at bottom but will be pre-made)
1 bunch basil, leaves removed and cut into chiffonade
1 pound fresh Mozzarella, grated
½ cup freshly grated Parmigiano-reggiano
¼ cup lightly toasted bread crumbs
Cooking Directions
Pre-heat the grill pan.
Cut each eggplant into 6 slices. Lightly season each disk with salt and pepper. Place on the grill and cook until dark brown and softened, about 5 minutes on each side.
Heat tomato sauce in a small saucepan. Spoon ¼ cup of sauce over top of each layer of eggplant, then sprinkle each with a teaspoon of basil. Place one slice of mozzarella over each and sprinkle with 1 teaspoon Parmigiano. Top with 4 more slices of the grilled eggplant and repeat the layering with the cheeses, tomato sauce, and basil, then repeat again, using all the remaining basil and Parmigiano. Place the grill lid on top of the layers and cook until the cheese is melted.
Recipe Summary
Main Ingredients: eggplant, parmigiano-reggiano, olive oil, tomato sauce, bread crumbs, mozzarella
Course: Dinner