Home
>
GMA
>
Recipes Home
>
Mario Batali's Grilled Pepper with Anchovies, Capers, and Bread Crumbs
Mario Batali's Grilled Pepper with Anchovies, Capers, and Bread Crumbs
Try Mario Batali's take on the grilled pepper!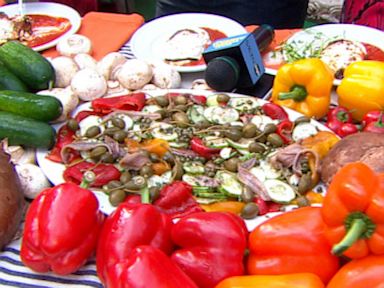 From the kitchen of Mario Batali
|
Try this summer grilled vegetable dish from "The Chew" co-host Mario Batali.
Ingredients
4 yellow bell peppers
4 red bell peppers
¼ cup plus 2 tablespoons extra-virgin olive oil
2 kirby cucumbers, thinly sliced
6 salt-packed anchovies, filleted and soaked in milk for 1 hour, or 12 oil-packed anchovy fillets, drained
2 tablespoons capers
4 garlic cloves, thinly sliced
1 teaspoon dried oregano, crumbled
1 teaspoon fresh thyme leaves
¼ cup red wine vinegar
¼ cup caper berries
½ cup toasted bread crumbs
Cooking Directions
Preheat a gas grill or prepare a fire in a charcoal grill.
Rub the peppers all over with 2 tablespoons of the olive oil. Place on the hottest part of the grill and cook, turning regularly, until charred and blackened all over, 10 to 12 minutes. Place the peppers in a paper sack and seal tightly, or put them in a large bowl and cover tightly with plastic wrap. Allow to cool and steam for 10 minutes.
Peel the peppers, remove the cores and seeds, and cut into triangles about 1 inch wide and 2 inches long. Place the peppers in a large bowl and add the cucumbers, anchovies, capers, garlic, oregano, thyme, the remaining ¼ cup olive oil, and the vinegar and toss carefully to mix well without tearing the peppers or anchovies. Let stand for 30 minutes. (The peppers can be made ahead and refrigerated for as long as overnight.)
To serve, arrange the peppers on a platter, making sure there are anchovies and cucumbers visible on top. Scatter the caper berries over the peppers and dust with the toasted bread crumbs.
Other Recipes That You Might Like