Home
>
GMA
>
Mario Batali's Grilled Portobellos with Pea Sprouts, Cacio di Roma, and Shaved Field Mushrooms
Mario Batali's Grilled Portobellos with Pea Sprouts, Cacio di Roma, and Shaved Field Mushrooms
Fire up the grill for a veggie-friendly entree!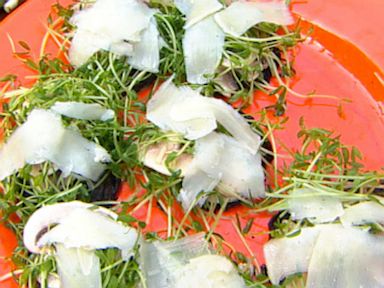 From the kitchen of Mario Batali
Try this dish full of vegetables and flavor from "The Chew" co-host Mario Batali.
Ingredients
4 large Portobello mushrooms, stems removed
4 domestic white mushrooms
8 ounces fresh pea sprouts or other tender young sprouts
4 tablespoons extra-virgin olive oil
2 tablespoons fresh lemon juice
Salt and pepper
8 ounces Cacio di Roma or other semi-soft sheep's milk cheese
Cooking Directions
Preheat the grill or broiler
Arrange the Portobello mushrooms on the grill or in a broiler pan and cook until soft and barely charred, 3 to 4 minutes per side. Set aside.
Using a mandolin or very sharp knife, slice the domestic mushrooms paper-thin.
Combine the pea sprouts, olive oil, and lemon juice in a mixing bowl and toss to evenly coat the sprouts. Season to taste with salt an pepper and divide among 4 plates in little haystacks.
Using a vegetable peeler, shave the cheese over and around each haystack. Scatter the domestic mushroom slices over and around the salad, place a grilled Portobello on each haystack, and serve.
Recipe Summary
Main Ingredients: cheese, pea sprouts, mushrooms, extra-virgin olive oil