Mario Batali's Lamb Shanks with Leeks and Grapes
A Great Turkey Alternative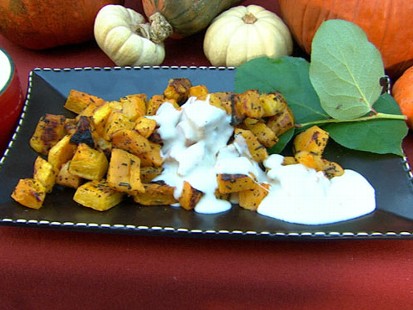 Chef, author of "Simple Family Meals," prepares various options for Thanksgiving
From the kitchen of Mario Batali
|
This fall dish is the perfect main course for entertaining. Serve to your guests for your festive holiday celebration!
Ingredients
10 Large, meaty lamb shanks
Salt and freshly ground black pepper
6 tablespoons extra-virgin olive oil
2 Spanish onions, chopped into ¼ inch dice
5 carrots, peeled and cut into 1 inch pieces
6 leeks, white and light green parts only, trimmed, halved lengthwise, cut crosswise into thin half-moons, rinsed thoroughly, and drained
2 cups dry white wine
1 cup basic tomato sauce (for quick results try my Mario Batali pasta sauces by Gia Russa)
3 cups brown chicken stock
2 cups red grapes, wine grapes such as Sangiovese, or even better, Concord grapes, halved and seeded
Cooking Directions
Preheat the oven to 375 degrees
Rinse and dry the lamb shanks, and season them liberally with salt and pepper. In a very large heavy-bottomed Dutch oven, heat the olive oil over medium-high heat until smoking. Add the lamb shanks, 5 at a time, and sear until dark golden brown all over, 10 to 12 minutes per batch. Remove the shanks and set them aside.
Add the onions, garlic, carrots, and leeks to the pot and cook until softened, 8-10 minutes
Add the wine, tomato sauce, and sock to the vegetables and bring to a boil. Return the lamb shanks to the pot and bring back to a boil. Cover the pot tightly, place it in the oven, and bake for about 1.5 hours, until the meat is fork-tender.
Remove the pot from the oven, check the sauce for seasoning, and then add the grapes. Stir them in gently, and serve directly from the pot.
This recipe was styled by chef Karen Pickus for Good Morning America.
Recipe courtesy Mario Batali.
Other Recipes That You Might Like