Mario Batali's Neapolitan-Style Broccoli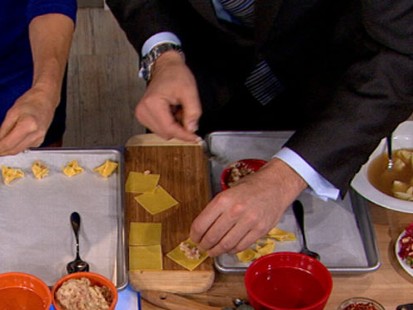 Co-host of "The Chew" prepares his favorite holiday classic Tortellini in Brodo.
From the kitchen of Mario Batali
This is a great holiday side dish. The hot red pepper flakes are an update to the usual boring steamed broccoli.
Ingredients
1/4 cup extra virgin olive oil
1 red onion, chipped into 1/4 inch dice
4 garlic cloves, thinly sliced
2 1/2 pounds fresh broccoli, cut into 2-inch spears and cut into similar
sized pieces
1 tablespoon hot red pepper flakes
salt and freshly ground black pepper
Cooking Directions
Combine the oil and the onions in a large, heavy-bottomed pot, and cook
over medium heat until the onions are softened but not browned. Add the
garlic and cook for 1 minute longer. Add the broccoli, and stir to coat it
with the onion mixture. Cook over high heat for 8 minutes, stirring so
that the mixture does not scorch. If it gets too hot, add cool water, 2 to
3 tablespoons at a time, to slow it down.
When the broccoli is tender, add the red pepper flakes, season with salt
and black pepper, and stir well. Serve hot or at room temperature.
Recipe courtesy Mario Batali.
This recipe was styled by chef Karen Pickus for Good Morning America.
Recipe Summary
Main Ingredients: broccoli, red onion, red pepper flakes, olive oil
Course: Vegetable
More Info: Kid Friendly