Mario Batali's Panettone French Toast with Cranberry Maple Syrup
Delicious Holiday Breakfast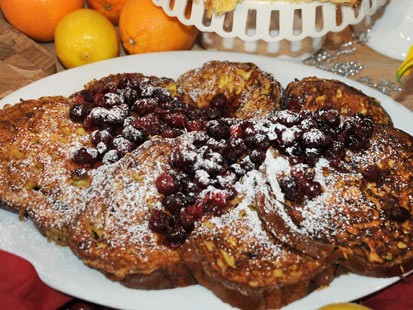 From the kitchen of Mario Batali
Try Mario Batali's panettone french toast with cranberry maple syrup recipe.
Ingredients
1 pound panettone (left over / slightly stale is best)
6 large eggs
3/4 cup whole milk
1/4 cup granulated sugar
1 teaspoon vanilla extract
2 tablespoons unsalted butter
For the cranberry maple syrup:
1 pound fresh cranberries
2 cups maple syrup
Cooking Directions
Preheat oven to 200 degrees F. Trim the bottom crust of the pannetone and starting at the bottom, cut crosswise into 6 to 8 large rounded slices. In a large bowl, whisk together the eggs, milk, sugar and vanilla until blended well. Melt 1 tablespoon of butter on a large nonstick griddle over medium heat. Dip 3 slices of panettone into the custard, turning to allow both sides to absorb the egg mixture. Grill until golden brown, then flip and do the same on the other side, about 4 minutes per side. Continue until all pannetone have been grilled. Transfer the French toast to a baking sheet and keep them warm in the oven.
For the cranberry maple syrup:
Place both ingredients in sauce pan, bring to a boil, lower heat to simmer for 10 minutes, cool and serve.
Recipe courtesy Mario Batali.
This recipe was styled by chef Karen Pickus for Good Morning America.
Recipe Summary
Main Ingredients: butter, panettone, egg, cranberries, maple syrup
Course: Breakfast, Brunch