Mario Batali's Panzanella Salad
A Hearty Italian Salad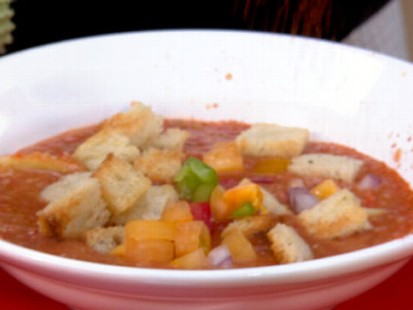 "The Chew" star joins "GMA" to share some of his favorite recipes.
From the kitchen of Mario Batali
This hearty salad is the perfect recipe for end-of-season summer tomatoes.
Ingredients
3 large Heirloom tomatoes, cut or sliced to your liking
1/2 cup breadcrumbs
1/4 cup thinly sliced red onions
1/2 cup sliced cucumbers, seeded
1/4 cup whole basil
2 Tablespoons sherry vinegar
3 tablespoons extra virgin olive oil
Salt and freshly ground black pepper, to taste
Lightly toasted day-old bread.
Cooking Directions
Once toasted, set aside the bread until cool. Meanwhile, in a large bowl, toss together all ingredient. Add croutons and set aside for 15 minutes at room temperature before serving. Lightly toss before plating.
Recipe courtesy Mario Batali.
This recipe was styled by chef Karen Pickus for Good Morning America.
Recipe Summary
Main Ingredients: tomatoes, breadcrumbs, salt
Course: Salad
More Info: Kid Friendly