Mario Batali's Pear and Hazelnut Cake
Bake This Beautiful Fall Cake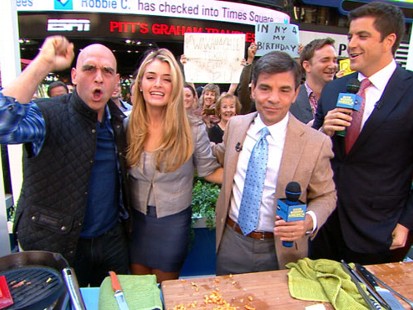 Team Robin faces Team George to cook with mystery ingredients in five minutes.
From the kitchen of Mario Batali
|
Full of fall flavors, Mario Batali prepares this beautiful fall dessert perfect for entertaining.
Ingredients
2 tablespoons extra virgin olive oil
½ cup finely ground fresh breadcrumbs
12 tablespoons (1 ½ sticks) unsalted butter, at room temperature
1 ¼ cups plus ¼ cup sugar
2 teaspoons vanilla extract
5 tablespoons whole milk
5 large eggs, at room temperature
2 cups all-purpose flour
¼ cup plus ¼ cup ground hazelnuts
1 teaspoon baking powder
½ teaspoon salt
1 teaspoon ground cinnamon
3 ripe Comice pears
Grated zest and juice of 1 lemon
¼ cup confectioners' sugar
Cooking Directions
Preheat oven to 375 degrees. Brush the sides and the bottom of a 3-inch-deep 9-inch springform pan with olive oil, and dust with fresh bread crumbs
In a large bowl, use a handheld electric mixer on medium low to cream together the butter, 1 ¼ cups of the sugar, the vanilla, and the milk until the mixture is light and fluffy, about 3 minutes. Add the eggs, one at a time, beating until well incorporated.
In a separate bowl, mix together the flour, ¼ cup of the hazelnuts, the baking powder, the salt, and the cinnamon. Add the dry ingredients to the wet, and mix with a wooden spoon for 1 minute, until combined. Set the batter aside.
Peel and core the pears, and slice each one into 8 even slices. Place the pears in a bowl, and toss with the remaining ¼ cup sugar and the lemon zest and juice.
Pour the batter into the prepared springform pan. Arrange the pear slices on top of the batter, forming two concentric circles with 6 slices on the inside circle and 18 on the outside, with the stem end of each piece pointing toward the center. (They will sink a bit). Place the pan in the oven and bake for 1.5 hours or until the cake is golden brown on top and toothpick inserted toward the center comes out clean. Remove from the oven and allow to cool for 20 minutes.
Release the springform sides and place the cake on a platter. Sprinkle the top of the cake with the remaining ¼ cup ground hazelnuts, dust with confectioner's sugar, and cut into slices to serve.
This recipe was styled by chef Karen Pickus for Good Morning America.
All recipes are courtesy Molto Batali (Ecco 2011)
Other Recipes That You Might Like