Mario Batali's Polenta with Mushroom Ragu
A Hearty Italian Side Dish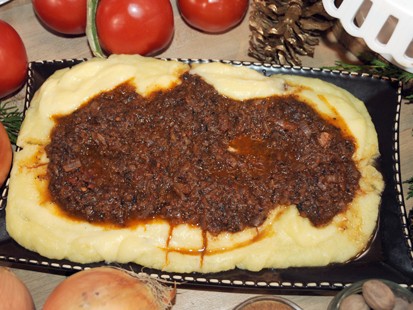 From the kitchen of Mario Batali
Italians love mushrooms, and you will spot mushroom foragers under every tree and in every field in season. If you cannot find porcini, the crowning glory of all foragers, do try to find other wild mushrooms, which will make for a more interesting and authentic dish. In a pinch, though, you can use portobellos.
Keep up with Mario and his family with his daily HOLIDAZE emails. Click here to learn more.
Ingredients
1 cup quick cooking polenta
1/2 cup stracchino cheese
1/4 cup Extra-virgin olive oil
1 medium Spanish onion, finely chopped
12 ounces Porcini or other wild mushrooms, trimmed if necessary and finely chopped (or substitute Portobello mushroom caps)
1/2 cup dry red wine
1 cup Basic Tomato Sauce (can use Mario's jarred sauce, if that's ok w you)
1 tablespoon unsalted butter
Salt and freshly ground black pepper
Cooking Directions
Place 5 cups water in a 4-quart saucepan and bring to a boil. Add a tablespoon of salt. Drizzle in polenta in a thin stream into the pot, whisking constantly, until all polenta is incorporated and mixture begins to thicken. Switch to a wooden spoon, pull off heat and continue to stir until thick as paste. Add stracchino, stir through and set off heat. Set aside.
Meanwhile, in a 12- to 14-inch sauté pan, heat the olive oil over high heat until smoking. Add the onion and cook until light golden brown, about 5 minutes. Add the mushrooms and cook until they have given off most of their water and it has evaporated, 8 to 10 minutes. Add the wine, tomato sauce, butter, and salt and pepper to taste, reduce the heat to medium, and cook until the consistency of a thick sauce, about 5 more minutes.
Divide polenta among 4 bowls, top each with mushroom ragu and serve immediately.
Recipe courtesy "The Chew: Food. Life. Fun."
This recipe was styled by chef Karen Pickus for Good Morning America.
Recipe Summary
Main Ingredients: polenta, cheese, olive oil, mushroom
Course: Side Dish