Mario Batali's Pumpkin Fritters
Start Your Meal Off With These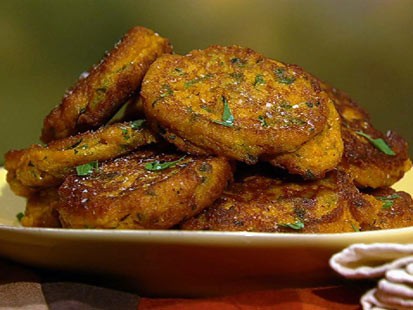 From the kitchen of Mario Batali
Ingredients
1 1/2 cup fresh pumpkin or butternut squash puree, or canned pumpkin
2 large eggs
1/2 cup unbleached, all-purpose flour
1/2 tsp baking powder
1/8 tsp freshly grated nutmeg
1 tsp kosher salt
3/4 cup grated grana padano or parmigiano-reggiano, plus more for garnish
1/4 cup finely chopped fresh flat-leaf parsley, plus more for garnish
finely ground black pepper, to taste
olive oil for frying
good balsamic vinegar, for garnish
Cooking Directions
Preheat an oven to 400 degrees F.
Cut the pumpkin and scrape out the seeds and stringy bits. Rub the inside with olive oil (or softened butter), and season with salt. Place cut side down on a sheet tray lined with parchment and cook until soft, about 40-45 minutes. Scrape out the puree and toss the skins.
Place the pumpkin puree in a medium bowl. Lightly beat the eggs with a fork and stir them into the pumpkin with a wooden spoon or spatula. In another bowl, whisk together the flour, baking powder, and salt. Add the dry ingredients to the puree mixture, along with the grated cheese, the parsley, nutmeg and a pinch of black pepper. Use the wooden spoon or fork to combine all the ingredients in to a light batter; be careful not to over mix it.
Heat olive oil in a heavy bottomed pan. Fill pot no more than 2/3rds of the way full, allowing room for the oil to expand. Drop heaping tablespoonfuls of the batter until the fritters are golden brown. Fry in batches, cooking for about 2 minutes per side.
Drain the fritters on paper towels and serve hot. Garnish with Parmigiano, parsley and balsamic.
Recipe courtesy The Chew.
Recipe Summary
Main Ingredients: squash, pumpkin puree, nutmeg, parmesan
Course: Appetizer/Starter