Mario Batali's Roasted Peppers and Capers Crostini
A Salty Snack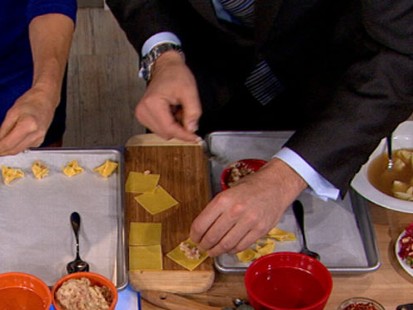 Co-host of "The Chew" prepares his favorite holiday classic Tortellini in Brodo.
From the kitchen of Mario Batali
The salty capers and sweet peppers are the perfect match on this crostini.
For more great recipes visit The Chew's site.
Ingredients
2 pound red bell peppers (4 large)
2 pound green bell peppers (4 large)
6 tablespoon extra virgin olive oil
6 garlic cloves (cut into thick slivers)
1/4 cup salt-packed capers (rinsed and soaked overnight in water -- change the water several times)
Maldon or other flaky sea salt
1 teaspoon hot red pepper flakes or to taste
14 cup balsamic vinegar
6 small pieces grilled bread or crostini
Cooking Directions
Preheat the broiler. Rub the peppers all over with 2 tablespoons of the olive oil, put them on a baking sheet, and broil, turning often, until blistered and charred all over, 15 to 20 minutes. Transfer the peppers to a paper bag and seal tightly, or put them in a large bowl and cover tightly with plastic wrap. Allow to steam and cool for 10 minutes.
Peel the peppers, remove the cores and seeds, and cut the peppers into 1-inch-wide strips. Put in a medium bowl.
Combine the garlic and the remaining ¼ cup olive oil in a 10-inch sauté pan and warm over medium heat, stirring, until the garlic just starts to golden, 2 to 3 minutes. Remove from the heat.
Combine the capers and balsamic vinegar in a small bowl. Whisk in the garlic oil, with the garlic. Season with salt and red pepper flakes and whisk again.
Pour the vinaigrette over the peppers, turning gently to coat. Spread on grilled bread or crostini and serve, or let peppers stand at room temperature for 1 hour to bring out the flavors before serving. (The peppers can be refrigerated for up to 3 days; bring to room temperature before serving.)
Recipe courtesy The Chew.
Recipe Summary
Main Ingredients: red peppers, green peppers, balsamic vinegar, bread
Course: Appetizer/Starter