Mario Batali's Sauteed Spinach with Cremini and Pepper
A Gourmet Side Dish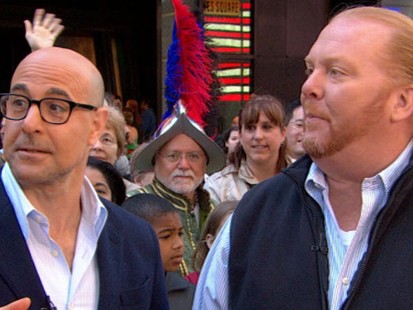 The chef and the actor whip up some budget-friendly Italian recipes.
From the kitchen of Mario Batali
|
Click here for more information on Food Bank for New York City.
Ingredients
¼ cup extra virgin olive oil
1 pound cremini mushrooms, brushed clean and halved
Grated zest and juice of 1 lemon
1 medium red onion, thinly sliced
2 yellow bell peppers, cored, seeded, and cut into thin julienne
12 cups young spinach leaves, trimmed
Salt
1 tbsp freshly ground black pepper
Cooking Directions
In a 14 inch skillet, heat the oil over medium heat. Add the mushrooms, cut side down, and sprinkle in the lemon zest. Cook, without shaking the pan or stirring, until the mushrooms area nice golden brown, about 8 minutes.
Add the onions and the peppers and stir thoroughly. Saute until the onions and peppers are soft and translucent, 6 to 7 minutes.
Raise the heat to high and allow the mushroom mixture to sizzle. Add the spinach and cook quickly, stirring, until wilted, about 2 minutes. Add the lemon juice, seasons with salt to taste and the pepper, and serve immediately.
Recipe courtesy Molto Batali.
This recipe was styled by chef Karen Pickus for Good Morning America.
Other Recipes That You Might Like