Mario Batali's Tagliatelle Pancakes
A Quick Pasta Patty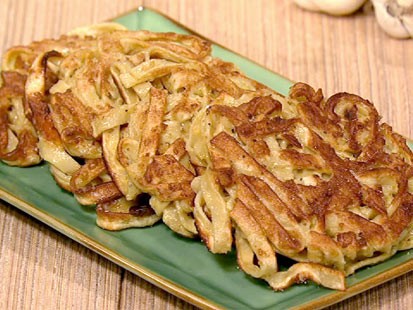 From the kitchen of Mario Batali
|
Ingredients
2 Servings Cooked Leftover pasta (we used tagliatelle pasta with sauted mushrooms and shallots)
2 Large eggs (beaten)
2 tablespoon Fresh bread crumbs
1/4 cup Freshly grated Parmigiano-reggiano (plus extra for garnish)
1/4 cup Extra virgin olive oil
Salt
Freshly ground black pepper
Pinch of powdered sugar (optional)
Cooking Directions
Place the pasta in a large bowl, add the eggs, bread crumbs, and Parmigiano, and mix in, by hand or with a wooden spoon. Season with salt and pepper. Take small handfuls of the pasta mixture and form it into lightly compressed nests about 4 inches in diameter and 1 inch thick; you should have 2 to 3 nests. Note: Mario's leftover pasta was tagliatelle with sautéed mushrooms and shallots.
In a 10- to 12-inch heavy-bottomed skillet, heat the olive oil over high heat until it is almost smoking. Carefully place the nests in hot oil and cook, turning once, until they are golden brown and the edges are crispy, about 2 minutes per side. Transfer to a plate lined with paper towels to drain. Sprinkle with the powdered sugar and some freshly grated Parmigiano-reggiano, if desired, and serve immediately.
Recipe courtesy The Chew.
Other Recipes That You Might Like