Mark and Clark's Fried Gefilte Fish Cakes
A Fried Version Your Kids Will Eat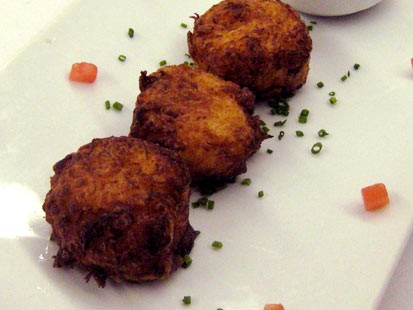 From the kitchen of Mark Gaier and Clark Frasier
|
James Beard Award winning chefs Mark Gaier and Clark Frasier with three restaurants – Arrows and MC Perkins Cove in Maine, and Summer Winter in Massachusetts – have a Gefilte Fish Cakes recipe that offers an alternative to the tired, jarred versions in the supermarket. Also, these are lightly fried, so it's perfect for those who are squeamish about the traditional gefilte fish in jelly.
For more information on chefs Mark Gaier and Clark Frasier, click here.
Ingredients
2 1/2 pounds gefilte fish filet
1 pound butter
1 1/2 spanish onions
1/2 tablespoons cumin powder
1/2 tablespoons paprika
1 tablespoons salt
1/4 teaspoons fine ground black pepper
1/2 teaspoons cayenne
1/2 tablespoons chili powder
2 quarts small diced potato
4 each limes, juiced
3 oz matzo meal
Cooking Directions
Instructions: Marinate the gefilte fish in cumin, paprika, cayenne, salt, pepper and lime juice in the refrigerator for a couple of hours. Sauté the onions in butter till just cooked, add potatoes and cook until soft. Add the fish and cook, breaking up the fish with a spatula. Season and let cool. Add matzo meal and form into patties. Dust in seasoned flour and fry for 2 minutes or until golden brown.
Recipe courtesy chefs Mark Gaier and Clark Frasier.
Other Recipes That You Might Like