Marouli Salata
Greek Salad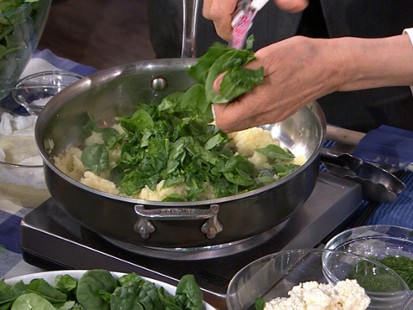 Chef and owner of NYC's Loi prepares spanakopita and stuffed grape leaves.
From the kitchen of Maria Loi
|
Try this Greek salad recipe for Easter from Maria Loi.
Ingredients
For the salad:
6 hearts of romaine, chiffonade
1 bunch of dill, finely chopped
2 bunches of scallion, thinly sliced
Feta crumble, as needed for topping
For the dressing:
1 cup feta, crumbled
1 cup Greek Yogurt
1 cup Greek Olive Oil
1 teaspoon dry mustard
2 tablespoon finely chopped dill
1 tablespoon red wine vinegar
salt, pepper, oregano to taste
Cooking Directions
Combine all the ingredients in a bowl, and dress with dressing below. Top with crumbled feta, serve and enjoy.
Combine all ingredients EXCEPT olive oil in the food processor. Slowly add olive oil last while machine is running to emulsify. Use to dress salad.
Recipe courtesy Maria Lio.
This recipe was styled by chef Karen Pickus for Good Morning America.
Other Recipes That You Might Like