Marshmallow Fudge
From the Comfort Food Diet Cookbook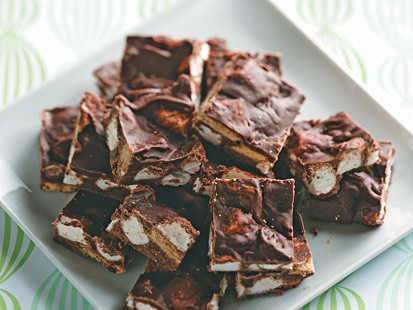 From the kitchen of Taste of Home
Ingredients
1 1/3 cups semisweet chocolate chips
2/3 cup fat-free sweetened condensed milk
1 teaspoon vanilla extract
1 1/3 cups miniature marshmallows
2 whole reduced-fat graham crackers, broken into bite-size pieces
Cooking Directions
Line an 8-in. square pan with foil and coat with cooking spray; set aside. In a heavy saucepan over low heat, melt chocolate chips with milk; stir until smooth. Remove from the heat; cool for 2 minutes. Stir in vanilla. Fold in the marshmallows and graham crackers.
Pour into prepared pan. Refrigerate for 1 hour or until firm. Lift out the pan and remove foil; cut into 48 pieces.
Yield: about 4 dozen.
Find all the recipes for Week One of Taste of Home's Comfort Food Diet Cookbook.
Nutritional Analysis: 1 piece equals 41 calories, 1 g fat (1 g saturated fat), 0.55 mg cholesterol, 10 mg sodium, 7 g carbohydrate, 0.55 g fiber, 1 g protein.
Diabetic Exchanges: 1/2 starch.
Recipe Summary
Main Ingredients: marshmallow, graham crackers, chocolate
Course: Snack, Dessert