Martha Hall Foose's Molasses Baked Beans
A Perfect Summer Side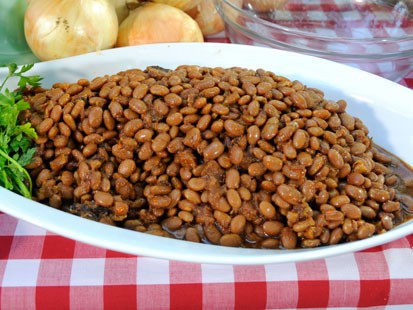 From the kitchen of Martha Hall Foose
From "Screen Doors and Sweet Tea":
No backyard barbecue is complete without baked beans and coleslaw. These beans cook a long time -- about the same amount of time it takes to make good barbecue. An electric roaster, Dutch oven or slow cooker can be used to cook the beans. It is real hard to go back to the ones in a can after you have had the real deal.
Ingredients
1 pound dried great northern beans
4 strips thick-cut bacon
1 large yellow onion, chopped
1 cup beer
1/2 cup molasses
2 tablespoons light brown sugar
1 tablespoon dry mustard
1 teaspoon sweet paprika
2 tablespoons sweet pickle relish
Salt
Cooking Directions
In a large stockpot over high heat, bring 2 quarts of water to a boil. Add the beans and let cook for 5 minutes. Spoon any scum from the surface. Remove from the heat and let soak for 1 to 2 hours. Drain the beans and discard the liquid.
In a large ovenproof skillet over low heat, render the fat from the bacon, cooking until the bacon is just beginning to brown, about 4 minutes. Remove the bacon to drain on paper towels, reserving the fat in the pan. When the bacon is cool, chop it and set aside.
Preheat the oven to 250ºF.
Put the pan with the bacon drippings over medium-low heat and add the onion. Cook until golden, about 4 minutes. Add the beer and scrape up the browned bits from the pan. Add 2 cups water, the molasses, brown sugar, mustard, paprika, reserved bacon, and drained beans. Cover and bake for 3 hours, stirring every hour.
Add the relish and bake, uncovered, for 30 minutes or until the beans are tender and the sauce has thickened. Season to taste with salt.
Notes
• One pound of canned beans can be substituted. Rinse and drain the beans thoroughly and reduce the baking time to 11/2 hours.
• The sweet pickle relish adds a tart, spicy element to the beans.
• If the cooking liquid seems a little low, add more beer, preferably a pale ale.
*Courtesy Martha Hall Foose " Screen Doors and Sweet Tea"
Recipe Summary
Main Ingredients: beans, bacon, molasses
Course: Side Dish, Party Platter