Bobby Flay's Mashed Potatoes with Hazelnut Sage Brown Butter
A Deeply Flavored Side Dish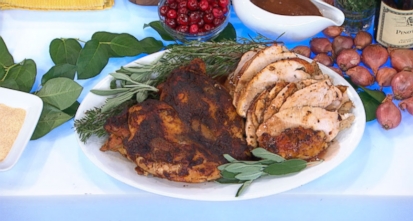 Food Network star shows how to wow a crowd with cedar plank roasted turkey and gravy.
From the kitchen of Bobby Flay
Add some regional flair to your Thanksgiving table this year with celebrity chef Bobby Flay's Pacific Northwest-themed dishes. Try this recipe for Mashed Potatoes with Hazelnut Sage Brown Butter.
Ingredients
3 pounds baking potatoes, such as Idaho or Russet, peeled and cut into quarters
2 sticks unsalted butter, at room temperature
1/2 cup, hazelnuts, finely chopped, plus more for garnish
2 tablespoons fresh sage, chopped
Freshly ground black pepper
Kosher salt
2 tablespoons fresh flat leaf parsley, chopped for garnish
Cooking Directions
Place potatoes in large pot and cover with cold water by 2 inches above potatoes. Add1 tablespoon of salt and bring the potatoes to a boil over high heat and cook until soft, about 30 minutes. Drain well and process through a food mill to remove lumps, and then return the potatoes to the pot
Meanwhile in a small skillet, toast hazelnuts in a dry pan until toasty and fragrant, about 1 minute. Add the butter and melt over low heat. Add the sage and cook, stirring, until the butter is golden brown, 4-6 minutes. Add the warm butter mixture to the potatoes and mash until smooth. Season with salt and pepper to taste. Garnish with additional toasted, chopped hazelnuts and chopped parsley if desired.
Recipe Summary
Main Ingredients: potatoes, unsalted butter, hazelnuts, fresh sage
Course: Side Dish