Tasting Table's Matzagna
Perfect for Passover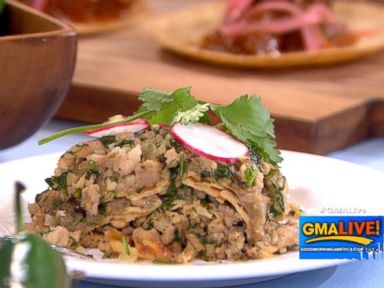 Tasting Table's Kalisa Martin shares some delicious recipes to celebrate the holiday.
From the kitchen of Tasting Table
Your entire life Passover has been a Groundhog Day repeat of gefilte fish and brisket. Join the 21st century with these updated mash-up holiday dishes from TastingTable.com. Get their recipe for Matzagna, or matzah lasagna, below.
Ingredients
2 large eggplants
Extra-virgin olive oil
Kosher salt
Freshly ground black pepper
4 teaspoons anchovy paste
2 pounds ground dark meat chicken
2 teaspoons cornstarch
2 cups finely chopped red onion
2 tablespoons grated ginger
6 tablespoons minced jalapeno chile (from about 3 chiles)
3 cups roughly chopped cilantro
Juice of 3 limes
7 sheets egg matzahs
3 cups hot chicken stock or water
Non-stick cooking spray
1 cup thinly sliced radishes
Cooking Directions
Preheat oven to 400 degrees F and heat a grill pan over high heat. Cut eggplants in half lengthwise, drizzle liberally with olive oil on the cut side, and season with salt and pepper. Place the eggplant cut-side down on the grill pan and cook until well charred, about 2 minutes. Place charred eggplant cut-side up on a parchment-lined tray and bake in the oven until completely tender, about 25 minutes. When the eggplants are cool enough to handle, scoop out the flesh with a large spoon, discarding the eggplant skins, and transfer to the bowl of the food processor. Add the anchovy paste and pulse until smooth.
In a medium mixing bowl, combine the ground chicken, cornstarch, 2 teaspoons of salt and 2 teaspoons of pepper and mix thoroughly. Heat 3 tablespoons of olive oil in a large skillet over high heat until shimmering but not smoking. Cook the chicken mixture in two batches until just cooked through, about 2 to 3 minutes per batch. With a slotted spoon, transfer the cooked chicken to a bowl. Add 2 tablespoons of olive oil to the now-empty skillet. Add the red onion, ginger and jalapeno chiles and cook on high heat for 1 minute. Remove the onion mixture from the pan and combine with the cooked chicken. Let the mixture cool at room temperature for about 10 minutes. Stir in 2 cups of roughly chopped cilantro and the juice of 2 limes and season to taste with additional salt and pepper.
Pour the hot chicken stock into a 9-inch by 9-inch baking dish. Soak each matzah in the stock for 1 minute, then transfer to a plate. (The chicken stock can be strained and used for another purpose.)
To assemble: Spray a 9-inch by 13-inch glass or metal baking dish with non-stick cooking spray. Cover the bottom of the baking dish with a layer of soaked matzahs. The matzahs can be cut or broken into smaller pieces to fit. Spread a layer of the eggplant mixture over the matzahs, followed by a thin layer of the cooked chicken mixture. Repeat the layering process 2 more times. Bake in the oven until heated through, about 8 to 10 minutes.
In a small mixing bowl, combine radish and the remaining 1 cup cilantro. Season with salt and the juice of the remaining lime. Cut the matzagna into squares and serve with a spoonful of radish salad alongside.
Recipe courtesy TastingTable.com.
Recipe Summary
Main Ingredients: eggplant, anchovy paste, chicken, matzah, radish
Course: Dinner