The Meatball Shop's Chicken Meatballs
Try These for Dinner Tonight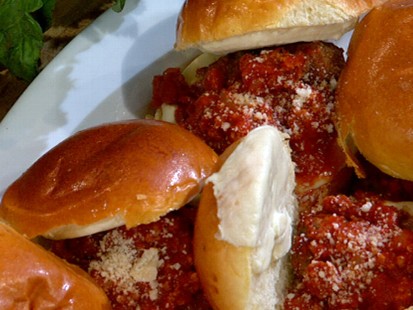 Daniel Holzman and Michael Chernow put unique twists on the Italian favorite.
From the kitchen of The Meatball Shop
Ingredients
2 tablespoons olive oil
2 pounds ground chicken, preferably thigh meat
2 large eggs
½ cup bread crumbs
½ cup chopped fresh parsley
¼ cup dry white wine
1 tablespoon salt
1 teaspoon ground fennel
1 teaspoon freshly ground black pepper
Cooking Directions
Preheat the oven to 450°F. Drizzle the olive oil into a 9×13-inch baking dish and use your hand to evenly coat the entire surface. Set aside.
Combine the ground chicken, eggs, bread crumbs, parsley, white wine, salt, fennel, and pepper in a large mixing bowl and mix by hand until thoroughly incorporated.
Roll the mixture into round, golf ball-size meatballs (about 1 ½ inches), making sure to pack the meat firmly. Place the balls in the prepared baking dish, being careful to line them up snugly and in even rows vertically and horizontally to form a grid. The meatballs should be touching one another.
Roast for 20 minutes, or until the meatballs are firm and cooked through. A meat thermometer inserted into the center of a meatball should read 165°F.
Allow the meatballs to cool for 5 minutes in the baking dish before serving.
Makes about 2 dozen 1 ½ inch meatballs
This recipe was styled by chef Karen Pickus for Good Morning America.
Recipe courtesy The Meatball Shop.
Recipe Summary
Main Ingredients: olive oil, chicken, fennel, salt
Course: Dinner
More Info: Kid Friendly