The Meatball Shop's Spicy Meat Sauce
Dare to Try This Spicy Sauce?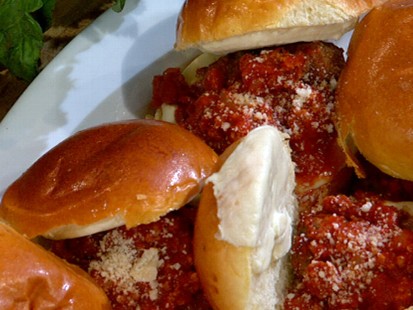 Daniel Holzman and Michael Chernow put unique twists on the Italian favorite.
From the kitchen of The Meatball Shop
Ingredients
2 tablespoons olive oil
1 large onion, finely diced
1 lb ground pork, preferably shoulder
2 teaspoons crushed red pepper flakes
2 teaspoons salt or to taste
2 tablespoons tomato paste
Two 26-ounce boxes Pomi chopped tomatoes or two 28-ounce cans whole plum tomatoes, roughly chopped with their liquid
Cooking Directions
Heat the olive oil in a large pot over medium heat. Add the onions, ground pork, red pepper flakes, and salt and cook, stirring constantly, until the meat is thoroughly cooked and the onions are soft and beginning to brown, about 15 minutes.
Add the tomato paste and continue cooking for 5 minutes. Add the tomatoes and stir constantly until the sauce begins to boil. Continue cooking for 35 minutes, stirring every 5 minutes or so to prevent the sauce on the bottom of the pot from burning. Taste and season with additional salt, if desired.
Recipe courtesy The Meatball Shop.
This recipe was styled by chef Karen Pickus for Good Morning America.
Recipe Summary
Main Ingredients: olive oil, pork, onion, tomatoes
Course: Dinner
More Info: Kid Friendly