Michael Anthony's Meatballs with Braised Onions and Mashed Potatoes
A Different Holiday Main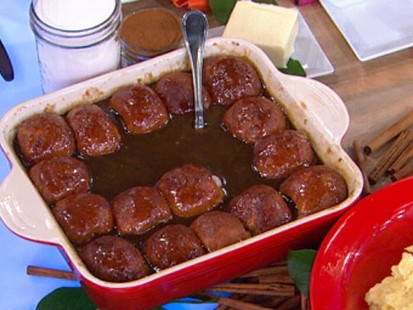 The chef prepares his favorite holiday dish from his new book, "The Gramercy Tavern Cookbook."
From the kitchen of Michael Anthony
Michael Anthony, executive chef of New York City's Gramercy Tavern and the 2013 winner of the James Beard Best Chef award, has a knack for getting the most flavor out of ingredients in the simplest way possible. See for yourself this holiday with his Thanksgiving recipe for meatballs with braised onions and mashed potatoes.
Ingredients
4 tablespoons (1/2 stick) unsalted butter
1 cup minced onion
1/2 tablespoon very finely chopped rosemary
1 tablespoon dried oregano
1 teaspoon pimentón
1/2 teaspoon Aleppo pepper
1/4 teaspoon cayenne pepper
1 tablespoon salt
1 teaspoon finely ground pepper
1 1/2 pounds freshly ground beef (ask your butcher for meat with a 25% fat content)
1 cup freshly grated Parmigiano cheese
2/3 cup panko or dried bread crumbs
1/4 cup finely chopped flat-leaf parsley
2 large eggs
3 tablespoons Garlic Puree (page 231)
8 thin slices Fontina cheese
Braised Onions (recipe below)
Mashed Potatoes (recipe below)
Cooking Directions
Preheat the oven to 325°F.
In a medium skillet, melt the butter over medium-low heat. Add the onion and rosemary and stir for about 30 seconds, then add the oregano, pimentón, Aleppo pepper, and cayenne. Stir for 30 seconds more, then add the salt and pepper and cook, stirring often, until the onions are soft, about 10 minutes.
Transfer the onion mixture to a large bowl and refrigerate until cold. Add the beef, Parmigiano, panko, parsley, eggs, and garlic puree to the chilled onions and mix well by hand. Divide the meat into four 1 cup portions (you're making big meatballs!). Moisten your hands with cold water and gently shape the meat into smooth balls, rewetting your hands as needed. Put the meatballs in a small baking dish. Bake until cooked through, about 40 minutes.
Preheat the broiler.
Transfer the meatballs to a cutting board, cut them in half, and top each half with a slice of Fontina cheese. Spoon off and discard excess fat from the baking dish, then return the meatballs to the dish and melt the cheese under the broiler. Serve with the braised onions and mashed potatoes, and top with the chives.
Braised Onions
Serves 4
2 tablespoons olive oil
2 large onions, halved and thinly sliced
1 teaspoon minced garlic
Salt and pepper
2 tablespoons red wine vinegar, plus a drop for serving
2 cups red wine
1 tablespoon extra-virgin olive oil
In a large skillet, heat the olive oil over medium heat. Add the onions, garlic, and a pinch each of salt and pepper and cook, stirring often, until the onions are softened, about 9 minutes. Add the vinegar and cook until it's almost gone. Pour in the wine and 1 cup water, bring to a simmer, and cook, stirring occasionally, until the liquid is almost gone, about 20 minutes. Remove from the heat and season the onions with salt, pepper, another drop of vinegar, and the extra-virgin olive oil.
Mashed Potatoes
Serves 4
2 pounds Yukon Gold potatoes, peeled and cut into large chunks
1 garlic clove
1 bay leaf
Salt
3/4 cup whole milk
8 tablespoons (1 stick) unsalted butter
Pepper
In a medium saucepan, combine the potatoes, garlic, bay leaf, and a large pinch of salt. Add enough water to cover the potatoes by an inch or so, bring to a simmer, and cook until the potatoes are just tender, about 15 minutes.
Drain the potatoes, discard the garlic and bay leaf, and toss the potatoes in the pan for about a minute to dry them out. Remove from the heat. In a small saucepan, combine the milk and butter and heat over medium heat until the butter is melted.
Meanwhile, transfer the potatoes to a ricer or food mill and process them back into the warm saucepan. Gently stir in the hot milk mixture, mix well, and season with salt and pepper.
Reprinted from The Gramercy Tavern Cookbook. Copyright © 2013 by Gramercy Tavern Corp. Photographs © 2013 by Maura McEvoy. Published by Clarkson Potter/Publishers, a division of Random House, LLC.
This recipe was styled by chef Karen Pickus for Good Morning America.
Recipe Summary
Main Ingredients: ground beef, pepper, eggs, onions, potatoes
Course: Main Course