Mario Batali's Meatballs
A Tailgating Favorite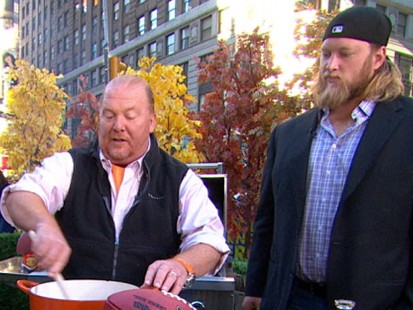 The chef and the Super Bowl champ put on a special event during the NYC Wine and Food Festival.
From the kitchen of Mario Batali
|
Tailgating can be so much more than just burgers and wings. Try Mario Batali's recipe for meatballs at your next game-day celebration.
Ingredients
1 pound ground chuck
1 pound ground turkey
1 pound ground veal
1 pound ground sausage, removed from the casing
2 cups panko breadcrumbs
1 cup grated Parmigiano-Reggiano
2 eggs, beaten
1/2 cup whole milk
1/2 bunch fresh parsley, chopped fine (about 1/4 cup)
1 teaspoon salt
1 teaspoon ground black pepper
Three 18-ounce jars of your favorite tomato sauce
Cooking Directions
Preheat the oven to 400F.
In a large bowl, use your hands to mix the chuck, turkey, veal, sausage, panko, Parmigiano, eggs, milk, parsley, salt, and pepper.
When everything is mixed, you can start rolling the meatballs: they should be 1 to 2 inches in diameter.
When you have rolled the meatballs, place them an inch apart in a nonstick baking pan or on an oiled cookie sheet.
Put pan in the oven and bake for 20 minutes.
While the meatballs are in the oven, put the tomato sauce in a large pot and heat it until it simmers.
When the meatballs are done, use a spatula to remove them from the pan and put them into the sauce.
Put a lid on the pot and let it simmer for 10 minutes.
To serve, you can transfer the meatballs to a different bowl or just use the pot.
Recipe courtesy of the Batali Brothers Cookbook (ecco 2013)
This recipe was styled by chef Karen Pickus for Good Morning America.
Recipe Summary
Main Ingredients: ground beef, ground turkey, ground veal, ground sausage, breadcrumbs, eggs, milk, parmegiano-reggiano, tomato sauce
Course: Appetizer/Starter, Dinner, Party Platter
Other Recipes That You Might Like