Home
>
GMA
>
Recipes Home
>
Melissa Clark's Baked Stuffed Potatoes With Corned Beef And Dill Butter
Melissa Clark's Baked Stuffed Potatoes With Corned Beef And Dill Butter
Celebrate St.Patty's Day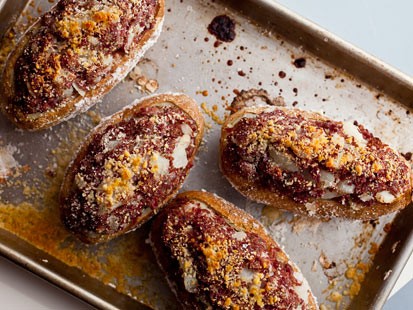 From the kitchen of Melissa Clark
|
For more great recipes from Melissa Clark, click here. Read below for an excerpt from her cookbook, Cook This Now.
The only corned beef I knew from my childhood was in Jewish-style deli sandwiches, stuffed so full of meat that even after splitting mine with my sister, we still had leftovers to take home for lunch the next day. When I finally tucked into a plate of Irish corned beef and cabbage at someone's house one St. Patrick's Day in high school, it was as exotic to me as reindeer meat.
Truth be told, as much as I appreciated the soft, melting texture of the meat, potatoes, and cabbage, I can't say I ever really craved it. The whole thing was a little bland and, well, it just seemed to want a jolt of deli mustard and some rye bread to bring it all together.
Even so, every year around St. Paddy's Day, I contemplate making corned beef and cabbage just to see if maybe my opinion's changed as I've gotten older and hopefully somewhat wiser.
The thing is, for all my beefy intentions, I never seem to make it. The biggest obstacle is size. To make a proper corned beef and cabbage dinner, you need to buy a whole corned beef, which weighs upward of 3 pounds, feeding at least eight. Usually on St. Patrick's Day I'm cooking for my tiny family of three, or two and a smidgen if you count what Dahlia eats of her dinner before clamoring for dessert.
This past year, however, I decided to try making a corned beef-cabbage-and-potato meal in a whole new way.
I had just written a New York Times article featuring the best baked potatoes I'd ever had, a variation on a Nigel Slater recipe. He stuffed his with pork rillettes and cheese. So I decided to try stuffing mine with slices of deli corned beef, which I hoped would add the same salty, savory kick as the rillettes but would be easier to find and possibly more apropos to serve on a day usually celebrated with pints of green beer.
The dish was a success; even Dahlia ate it after she laboriously picked out the dill bits and tossed them from her tray in a green-black shower. I like this recipe better than your standard-issue boiled corned beef and cabbage dinner, and almost as much as corned beef on rye—an awfully hard morsel to beat.
Ingredients
4 russet potatoes (10 to 12 ounces each), scrubbed well
2 1/4 teaspoons kosher salt
3/4 pound thinly sliced corned beef, coarsely chopped
4 tablespoons (1/2 stick) unsalted butter, softened
1 tablespoon plus 1 teaspoon chopped fresh dill
Pinch freshly ground black pepper
1/4 cup grated Parmesan cheese
Cooking Directions
Preheat the oven to 425°F. Rub each potato with 1/2 teaspoon salt and pierce twice with a fork. Place the potatoes on a baking sheet and bake until the skin is crispy and the insides are tender when pierced with a fork, 1 hour to 70 minutes.
When the potatoes have cooled enough to handle, use a sharp knife to slice off the tops. Scoop out the insides, leaving about 1/4 inch attached to the skin, and transfer to a bowl. Add the corned beef, butter, dill, remaining salt, and pepper to the bowl and mash well with a fork.
Stuff the potato skins with the potato mixture. Divide the topping among the potatoes and sprinkle with the cheese. Return the potatoes to the oven and bake until heated through, about 10 minutes. Run under the broiler for an additional 1 to 2 minutes, until golden brown and the cheese has melted.
What Else?
This basic method of rubbing the potatoes with salt and baking without foil, at relatively high heat, gives a very crisp-skinned potato that's ideal if you are the kind of person who likes to eat the potato skin. I certainly am, and this had become my standard baked potato method. Just make sure to use russet potatoes, which have a thicker and more crisp-able skin than thin-skinned red potatoes and Yukon Golds.
When I make these for Daniel, I just skip the cheese and dust the top with a little flaky sea salt.
Pastrami, a slice of coarse country pâté, leftover pot roast, and rillettes are all terrific substitutes for the corned beef if you are not serving this for St. Paddy's Day. Or if you've embraced rye bread as corned beef's one true soul mate and are happy to leave it at that.
Recipe courtesy COOK THIS NOW by Melissa Clark. Copyright © 2011,
Melissa Clark, Inc. Published by Hyperion. Available wherever books are sold. All Rights Reserved.
Other Recipes That You Might Like