'GMA' Lunch Break: Daniel Holzman's Meyer lemonade recipe
As Seen on the 'GMA' Lunch Break Live Stream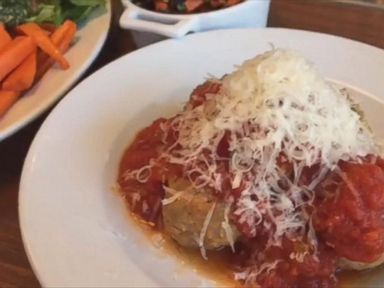 ABC News' Mara Schiavocampo cooks with chef Daniel Holzman at the Meatball Shop in New York City.
From the kitchen of Daniel Holzman
"GMA" caught up with chef Daniel Holzman at his restaurant, The Meatball Shop, in New York City. Here, Holzman shares a delicious and simple lemonade recipe.
Watch the "GMA" Lunch Break live stream on ABCNews.com/live and the GMA Facebook page daily at 12:30 p.m. ET.
Ingredients
1 Meyer lemon
1 cup sugar
3 cups water
1 cups lemon juice
Cooking Directions
Directions for lemonade concentrate:
1. Wash, then cut lemons into quarters and de-seed.
2. Combine water, sugar, Meyer lemon and lemon juice.
3. Puree very well in blender.
4. Strain through a fine mesh strainer.
Directions for lemonade:
1.Fill glass 3/4 way with ice.
2. Add six ounces of concentrate.
3. Top with four ounces of sparkling water.
Recipe courtesy Daniel Holzman
Recipe Summary
Main Ingredients: lemon, sugar, water, lemon juice
Course: Drinks