Michael Psilakis' Grecian Grilled Chicken 'Bean Salad'
A Healthy Lunch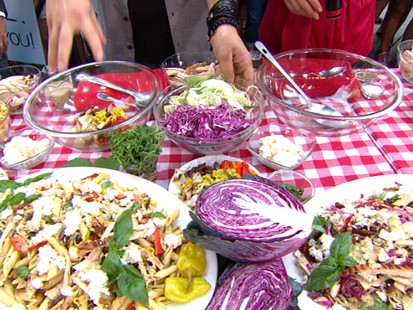 Owner of MP Taverna shows how to turn leftover chicken into a Grecian pasta salad.
From the kitchen of Michael Psilakis
Pack this delicious salad for a picnic lunch. Made with chickpeas and tossed in a red wine vinaigrette, this salad will disppear before your eyes.
Ingredients
2 large leftover grilled chicken breast
1 can chickpeas
1 can black eyed peas
¼ cup each kalamata olives, roasted peppers, sun-dried tomato, chopped grilled onion& pepperoncini
1/3 cup crumbled feta
6 fresh basil leaves (optional)
½ red wine vinaigrette
For the red wine vinaigrette:
½ cup red wine vinegar
1 small grilled onion
6 leaves basil
1 teaspoon picked thyme
2 tablespoons Dijon mustard
6 small cloves garlic, smashed
2 shallots, thickly sliced
2 tablespoons dry Greek oregano
1 tablespoon kosher salt
1 tablespoon coarsely cracked black pepper
¾ cup extra-virgin olive oil
Cooking Directions
Combine all ingredients excluding feta in a large mixing bowl and toss to combine. Top with crumbled feta. Serve.
In a food processor, combine the vinegar, grilled onion, basil, thyme, mustard, garlic, shallots, oregano, salt and pepper. With the motor running, drizzle in the olive oil until smooth. Add salt and pepper if desired.
Recipe courtesy Michael Psilakis.
This recipe was styled by chef Karen Pickus for Good Morning America.
Recipe Summary
Main Ingredients: grilled chicken breast, chick peas, dijon, garlic
Course: Salad
More Info: Kid Friendly