Michael Romano's Escarole and Apple Salad
Perfect Addition to Any Meal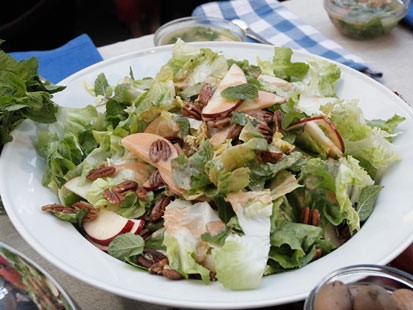 From the kitchen of Michael Romano
|
There is no oil in the dressing for this salad. Instead, there is maple syrup spiked with smoked paprika, which may make you skeptical. But the allure of the salad lies in its surprising combination of ingredients—and in the simple preparation, which requires only toasting pecans, some chopping and slicing, and mixing the dressing. It will make you wonder, How come I never thought of this?
Ingredients
1 cup pecans
For the dressing
½ cup plain yogurt
1½ tablespoons pure maple syrup
½ teaspoon sherry vinegar
½ teaspoon smoked paprika
½ teaspoon kosher salt
1 head escarole, cored and coarsely chopped
1 Granny Smith apple, halved, cored, and thinly sliced
1 red onion, halved and thinly sliced
¹/³ cup finely chopped fresh mint
Cooking Directions
Spread the pecans in a large dry skillet and toast over medium heat for 5 to 7 minutes, stirring and watching carefully so they do not burn. Transfer to a plate to cool.
To make the dressing: Combine all the ingredients in a small bowl and mix well.
Combine the escarole, apple, pecans, and onion in a large serving bowl. Toss with the dressing, sprinkle with the mint, and serve.
Recipe courtesy Family Table: Favorite Staff Meals from Our Restaurants to Your Home.
This recipe was styled by chef Karen Pickus for Good Morning America.
Other Recipes That You Might Like