Michael Symon's Angel Hair Caprese
Pasta Gets a Summery Touch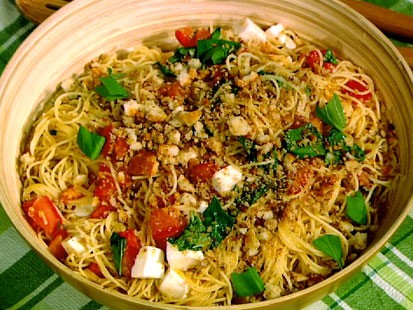 From the kitchen of Michael Symon
|
Ingredients
1 pound angel hair
salt and freshly ground pepper
3 tomatoes, cubed
1 bunch basil, torn
1 cup mozzarella, cubed
1/4 cup fresh breadcrumbs
1/4 plus 2 tbl extra virgin olive oil
2 tablespoon parsley, chopped
1 tablespoon parmesan
4 garlic cloves, sliced
Cooking Directions
Bring a large salted pot of water to a boil.
Drop the angel hair into the water and cook for 1 minute less than package instructions.
In a saute pan add 1/4 cup of olive oil and garlic. Saute over low heat until garlic becomes fragrant (being careful not to let it brown).
Add the cooked pasta to the olive oil and garlic with a little pasta water.
Combine the tomato, basil, and mozzarella in a large bowl. Season generously with salt and freshly ground pepper.
Add the pasta, along with garlic olive oil, and toss.
In a small saute pan toast breadcrumbs with olive oil, parsley and parmesan.
Garnish pasta with breadcrumbs and basil.
Recipe courtesy The Chew.
Other Recipes That You Might Like