Michael Symon's Bacon, Egg and Spring Onion Sandwich
Great for Breakfast or Lunch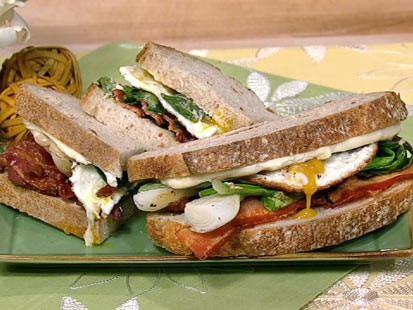 From the kitchen of Michael Symon
Ingredients
12 pieces Bacon
8 Spring Onions
1 tablespoon Extra Virgin Olive Oil
Salt and Pepper
12 Leaves Fresh Basil
4 Eggs
Mayonnaise to taste
Mustard to taste
8 Slices Sourdough Bread
2 tablespoon Butter
Cooking Directions
Heat a grill pan to medium-high heat. Grill the bacon until crisp and the bread until golden and toasted.
Toss the onions in the olive oil and season with salt and pepper and grill until bright and charred in spots.
In a non-stick pan, add butter and once melted fry each of the eggs. Baste egg with butter while cooking.
Assemble each of the sandwiches with 3 slices of bacon, two of the onions, a fried egg and 3 leaves of basil. Spread desired amount of mayonnaise and mustard on each.
Recipe courtesy The Chew.
Recipe Summary
Main Ingredients: bacon, onion, olive oil
Course: Breakfast