Michael Symon's Bacon Pancakes with Baked Tomatoes
Fluffy Pancakes Filled with Crispy Bacon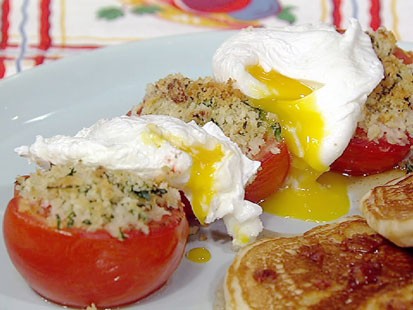 From the kitchen of Michael Symon
|
Ingredients
For the bacon pancakes:
2 cups flour
1/4 cup sugar
2 teaspoon baking powder
1/2 teaspoon baking soda
1/2 teaspoon salt
2 eggs
2 cups buttermilk
1/4 cup butter, melted
6 pieces bacon, cook and fat reserved
For the spicy maple syrup:
2 cups maple syrup
hot sauce, to taste
For the baked tomatoes:
3 on vine tomatoes, halved
1/2 cup panko breadcrums
1 clove garlic, minced
1/4 cup parsley, minced
2 tablespoon olive oil
salt and pepper, to taste
For the poached eggs:
6 eggs
1/4 cup white vinegar
2 quart water
Cooking Directions
For the pancakes:
Sift together the dry ingredients. whisk together the eggs, buttermilk, and butter. add the dry mixture to the wet and stir o combine. Add chopped bacon and mix in.
Add some of the reserved bacon fat to a skillet over medium low heat and ladle some of the pancake batter into the pan. Flip the pancakes when they begin to bubble around the edges. Cook for another 2 minutes and remove to a platter. Cover to keep warm.
Combine the maple syrup and the hot sauce in a small sauce pan over medium love heat and serve with the pancakes.
For the baked tomatoes:
Preheat oven to 400 degrees f
Place tomatoes on a baking sheet and season with salt and pepper.
Combine the breadcrumbs, garlic, parsley, and half the olive oil in a large bowl and toss to combine. Season with salt and pepper.
Top each tomato with a mound of the breadcrumb mixture. Drizzle the remaining olive oil over the to and bake in the oven for 15 minutes.
For the poached eggs:
Bring the water to a simmer in a wide, low-sided pan and add the vinegar. Gently add eggs in two batches. Cook for about 3 minutes until just set. Remove with a slotted spoon and blot on a towel. Serve with baked tomatoes and bacon pancakes.
Recipe courtesy The Chew.
Other Recipes That You Might Like