Michael Symon's Big Mike Burger
Take a Bite Out of This Burger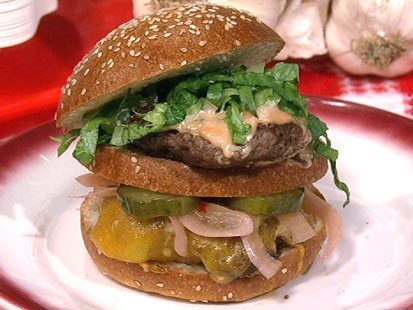 From the kitchen of Michael Symon
Ingredients
2 lb ground beef (75-25 blend)
4 brioche rolls, cut into 3rds, like a big mac
2 tbsp butter
1 cup romaine lettuce, shredded
4 aged cheddar cheese slices
sweet hot pickles & peppers, to serve
pickled red onions, to serve
For the symon sauce:
1/4 cup garlic aoli
1/4 cup ketchup
1/4 cup brown mustard
hot sauce, to taste
pickle juice, to taste
For the garlic aioli:
1 cup olive oil
2 cloves garlic, minced on microplane
2 egg yolks
1/2 lemon, juiced
salt, to taste
Cooking Directions
Procedures
Preheat a griddle over medium heat.
Make eight equal size patties from the ground beef about 1/2 inch bigger than the bun. Season with salt and pepper.
Cook the patties on the griddle, about 3 minutes per side. Top four of the patties with slices of cheese when cooking the second side. Set aside.
Butter the brioche and toast on the griddle until golden brown.
To make the garlic aioil whisk all of the listed ingredients in a bowl. Season with salt to taste.
Make the special sauce by whisking together the garlic aioli, mustard, and ketchup. Add a couple dashes of hot sauce and a splash of pickle juice.
Assemble with the cheesed patty on the bottom, top with pickles and onions. Add the middle bun, then second patty. Top with special sauce, shredded romaine and the top bun.
Recipe courtesy The Chew.
Recipe Summary
Main Ingredients: olive oil, garlic, egg
Course: Dinner