Michael Symon's Braised Chicken Fennel and Potatoes
Try This Fabulous Fall Meal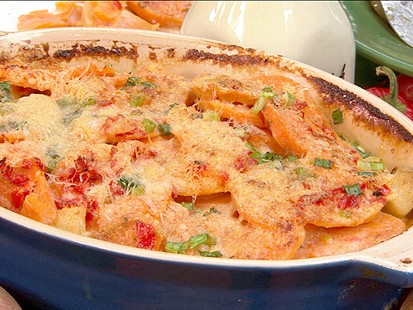 Co-host of "The Chew" offers fantastic autumn recipes for your family.
From the kitchen of Michael Symon
|
Make this delicious meal for dinner as the nights get colder. It's perfect for fall!
Ingredients
3 tablespoons extra virgin olive oil
4 chicken thighs with legs attached
salt and pepper to taste
1 red onion wedges
4 cloves garlic
1/2 bulb fennel wedges
1 bunch thyme (leaves only)
2 springs of thyme
1 tesapoon red pepper flakes
1 cup white wine
2 cups water
zest and juice of 1 orange
1 bay leaf
8 new potatoes (halved)
Cooking Directions
Heat oven to 350 degrees
Heat a large Dutch oven over medium high heat and add the olive oil. Season the chicken with salt and pepper and add to the hotpot. Sear the chicken until golden brown on both sides, about 2 minutes per side. Remove the chicken from the pot and pour out a little of the excess fat.
Add the onions, potatoes, and fennel. Michael tip: if you don't like fennel you can use celery. Cook for another 2 minutes. Deglaze with the wine and add the chicken back to the pot. Add the garlic, thyme and chili flakes. Pour over the water and add the bay leaf and a couple more sprigs of thyme. Cover and place in the oven until the chicken is tender, about 30-45 minutes.
Remove pot from oven when chicken is fully cooked. Finish dish with orange zest and juice, two sprigs of thyme and a drizzle of olive oil.
Serve with crusty bread.
This recipe was styled by chef Karen Pickus for Good Morning America.
Recipe courtesy Michael Symon.
Other Recipes That You Might Like