Michael Symon's Chocolate Pumpkin Pie
An Unexpected Twist on a Classic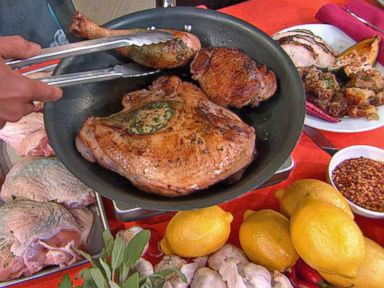 Carla Hall, Michael Symon, Mario Batali and Clinton Kelly share recipes for turkey, sausage stuffing, acorn squash and chocolate pumpkin pie.
From the kitchen of Michael Symon
Ingredients
For the pie crust:
1 1/4 cups all-purpose flour
1/2 teaspoon salt
1/2 teaspoon sugar
1/2 cup unsalted butter, very cold, and cut into small pieces
2-3 tablespoons ice cold water
For the pie filling:
3 oz bittersweet chocolate, very finely chopped
6 oz semisweet chocolate, chopped
4 tablespoons unsalted butter, cut into small pieces
1 14 oz can pumpkin
1 12 oz can evaporated milk
3/4 cup packed light-brown sugar
3 large eggs
1 tbsp cornstarch
1 tsp vanilla extract
1 1/2 teaspoons salt
3/4 teaspoon ground cinnamon
3/4 teaspoon ground ginger
1/4 teaspoon ground nutmeg
ground cloves
Cooking Directions
Combine the flour, salt, sugar and butter in a food processor and pulse until until coarse, with small marbles of butter remaining. Sprinkle 2 tablespoons of the ice water and pulse until crumbly, and dough holds when squeezed together. Add another sprinkle of water if too dry, but do not overmix.
Transfer dough to a plastic bag, press into a disk, and refrigerate for one hour.
Preheat oven to 425F.
Roll out dough on floured surface. Press into pie plate, trim to leave 1-inch excess around edges, fold under and flute edges. Cut a piece of parchment or nonstick foil to the size of the pie, and use to line pie crust. Fill with pie weights, and bake until golden, about 15 minutes.
Reduce heat to 325F.
In a double boiler, melt semisweet chocolate and butter, stirring frequently, until smooth, and remove from heat. In a large bowl, mix together the pumpkin, evaporated milk, light brown sugar, eggs, cornstarch, vanilla, salt, cinnamon, ginger, nutmeg, and cloves. Fold in the chocolate mixture, and pour into pie crust. Bake at 325F until center of pie has set, about an hour. Refrigerate until cooled completely to serve.
Recipe courtesy The Chew.
Recipe Summary
Main Ingredients: flour, chocolate, pumpkin, sugar
Course: Dessert