Michael Symon's Egg and Lemon Soup
A Soup That's Great for Spring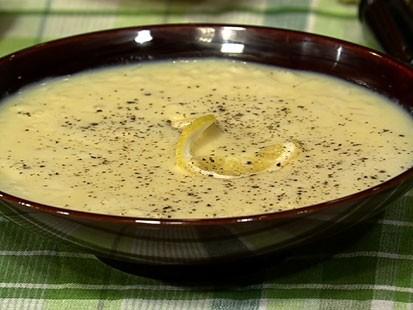 From the kitchen of Michael Symon
Ingredients
For the Chicken Stock:
2 pounds Chicken Backs and Necks
2 pounds Chicken Feet or additional backs and necks
1 Onion (quartered)
1 Carrot (thickly sliced)
1 Head of Garlic (halved crosswise)
4 sprigs Fresh Thyme
1 tablespoon Kosher Salt
1 Bay Leaf
1 tablespoon Black Peppercorns
For the Avgolemono:
1 recipe Chicken Stock
3 to 5 Eggs
Juice from 3 to 5 Lemons
1/4 teaspoon Cornstarch
1/2 to 3/4 cup Orzo or Rice
Cooking Directions
For the Chicken Stock: Rinse the chicken parts thoroughly.
In a 10-quart stockpot, combine the onion, carrot, garlic, thyme, salt, bay leaf, peppercorns, and 1 gallon cold water. Bring the liquid to a boil over high heat, skimming any foam and impurities that rise to the surface.
Reduce the heat to low and simmer for 5 hours, skimming the surface as necessary. Strain through a fine-mesh strainer, discarding the solids.
For the Avgolemono: Blend the eggs, lemon juice, and cornstarch in blender.
Boil orzo or rice in chicken stock until tender.
Remove the chicken stock from heat for about 5 minutes, then slowly add two ladles of chicken stock to the egg and lemon mixture (to temper) to avoid curdling.
Then add the egg and lemon mixture back into the pot with chicken stock. Return pot to heat and slowly bring to a simmer. Serve warm.
Recipe courtesy The Chew.
Recipe Summary
Main Ingredients: chicken necks, salt, thyme, orzo, cornstarch
Course: Soup
More Info: Kid Friendly