Michael Symon's Twice-Fried Chicken With Honey
Crispy Yet Sweet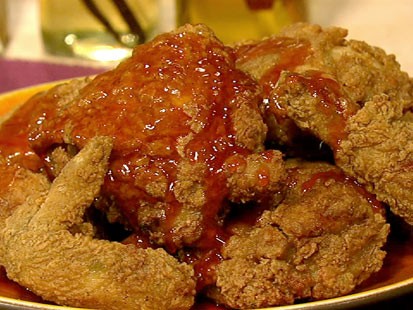 From the kitchen of Michael Symon
|
Ingredients
2 tablespoon seafood seasoning
1 tablespoon coriander seeds (toasted and cracked)
1 teaspoon chipotle powder
1 teaspoon smoked paprika
Kosher salt
1 four-five pound chicken (cut into 12 pieces)
3 tablespoon honey
Sriracha (optional)
Vegetable oil for frying (or lard)
1 1/2 cup instant flour (Wondra)
6 garlic cloves (skin on)
4 sage leaves
4 rosemary sprigs
2 bacon strips
Fresh grated parmesan (for garnish)
Cooking Directions
In a small bowl, combine the seafood seasoning, coriander seeds, chipotle powder, paprika and a generous pinch of salt and mix well. Coat the chicken pieces with the spice mixture. Dredge chicken pieces in flour and place in a bag to refrigerate overnight.
If you decide to make this a spicy dish in a small bowl, combine the honey and Sriracha. Stir well and refrigerate until ready to fry the chicken.
In a large Dutch oven, put in enough lard to come 4 inches up the side of the pot. Heat the lard to 300-325 degrees F.
Add garlic and bacon to the hot oil and fry for a couple minutes.
Beginning with the thighs, add the chicken to the pot, making sure not to crowd. (This may take several batches.) Place the lid on and cook until golden and cooked 80 percent through, 8 to 10 minutes. Remove the chicken to a wire cooling rack and repeat with the remaining chicken, if necessary.
Once all the chicken is done, heat up the large to 365 degrees F. Add rosemary and sage to fry and season the oil. Add the chicken in the same batches and cook until dark golden and crispy, 2 to 3 minutes per side. Remove onto paper towels and serve immediately topped with a drizzle of honey, a pinch of salt and some fresh grated parmesan.
Recipe courtesy The Chew.
Other Recipes That You Might Like