Michael Symon's Lemon Pound Cake
The Perfect Cake to Bake for Mom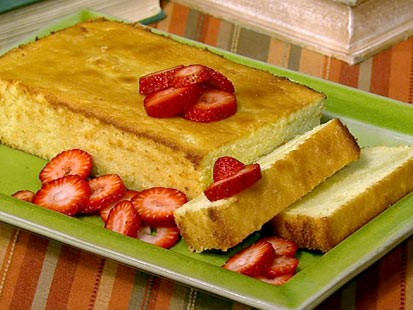 From the kitchen of Michael Symon
Ingredients
1/2 cup yellow cornmeal
1 cup all-purpose flour
1/2 teaspoon baking soda
1/2 teaspoon salt
3 eggs, separated
1/2 cup butter
2 tablespoon grated lemon zest
1 1/4 cups sugar
6 tablespoons fresh lemon juice
1/2 cup milk
strawberries
Lavender Simple Syrup
For the Lavender Simple Syrup:
1 cup sugar
1 cup water
1 tablespoon lavender
Cooking Directions
Procedures
Preheat the oven to 350°F …Line a 9x5-inch loaf pan with parchment.
Combine the cornmeal, flour, baking soda & salt; set aside. Beat the egg whites until stiff; set aside. Cream the butter, sugar, and lemon zest until fluffy then add the egg yolks and mix well.
Add the lemon juice and then milk to dry ingredients.
Carefully fold in the beaten egg whites...spoon the batter into the prepared pan. Bake for 50-60 minutes or until a toothpick inserted near the center of the cake comes out clean.
To serve cut slices of cake and brush with lavender simple syrup and top with fresh strawberries.
For simple syrup:
Add ingredients in a small sauce pot. Heat on stove until sugar dissolves. Turn heat off and let syrup steep for 5 minutes. Strain out lavender and allow syrup to cool. Store in refrigerator.
Recipe courtesy The Chew.
Recipe Summary
Main Ingredients: cornmeal, flour, baking soda, sugar, water
Course: Dessert