Michael Symon's Lemony Angel Food Cake
Sweet and Light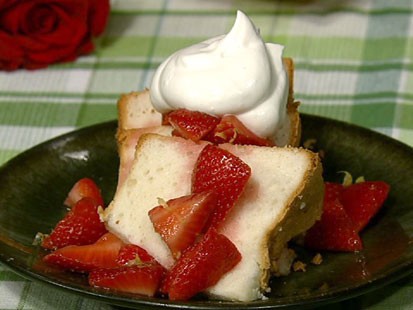 From the kitchen of Michael Symon
|
Ingredients
12 egg whites
1 3/4 cups sugar
1/4 teaspoon salt
1 cup cake flour
1/3 cup warm water
1 teaspoon vanilla extract
1 lemon (zested)
1 1/2 teaspoons cream of tartar
Cooking Directions
Preheat oven to 350 degrees F.
Separate egg whites, set aside and let come to room temperature.
Spin sugar and salt in a food processor for about 2 minutes or until superfine. Sift half of sugar together with cake flour and set aside.
In a stand mixer, whisk together egg whites, water, vanilla extract, lemon zest and cream of tartar until foamy, about 1 minute. While the Kitchen Aid is running, add half of the sugar. Continue to beat on high until medium peaks form, about 5 minutes. Transfer mixture to a large mixing bowl. Sift half of the flour mixture on top of beaten whites. Fold gently with a spatula to combine. Repeat with second half of flour mixture. Spoon gently into an ungreased tube pan.
Bake for 30 to 35 minutes, until a wooden skewer comes out dry. Cool cake upside down on a cooling rack, for at least an hour or until completely cool. Serve with desired toppings/icings.
Recipe courtesy The Chew.
Other Recipes That You Might Like